In this blog, we touch on diverse topics about Japanese food cultures, practices together with the culinary secret, TREHA®, and its important role in the Japanese food industry. We hope our blog helps you obtain in-depth knowledge of the secrets and science behind Japanese cuisine, shared from our kitchen, to yours.
History of vending machines
The oldest vending machine in the world, the holy water vending machine, appears in the book called Pneumatika written by the ancient Egyptian scientist, Heron. The machine was placed in a temple around 215 BC. When a coin was inserted, the weight of the coin allowed for water to flow out. In the late 1800s, after the Industrial Revolution in England, the vending machines of today were launched. They were put to practical use, dispensing things like beverages, foods, tickets, and tobacco. In 1888 in Japan, the tobacco vending machine was invented by Takashichi Tawaraya, who is also known as the inventor of the oldest existing vending machine in Japan called the automatic postage stamp and postcard vending machine. The idea for the product was to not only sell stamps and postcards, but also to post mail.
In 1962, a major American beverage manufacturer made a full-scale entry into Japan. That was the start of the popularization of beverage vending machines in Japan. From around 1974, Japan's hot & cold beverage vending machine spread rapidly, which was a single vending machine that sells both hot and cold beverages. Nowadays, there are more than 2.7 million vending machines across Japan and surprisingly they are available not only inside facilities, but also outside and at work for 24/7 access. It is said that Japan's low theft and crime rate makes this possible!
Changes in vending machine lineups
In terms of the lineup, beverages account for more than 80% of vending sales, followed by daily necessities like tobacco, food, tickets including train tickets, meal tickets, and admission tickets. Although there are an overwhelming number of vending machines for beverages, they have been decreasing in numbers for the past few years. In addition, the demand for tobacco is on the decline too. Among them, meal tickets and admission tickets continue to increase. Specifically for restaurants, the ticket vending machine has increased in demand due to the improvement in the speed of serving, reduction in labor costs, and more importantly, increase in non-face-to-face payment needs after the COVID-19 pandemic.
Vending machines for food have dramatically increased in both number and popularity. After the COVID-19 pandemic, restaurants, cafes, patisseries, and a large variety of food industries have rapidly incorporated the vending machine as a new style of business. Vending machines are normally set up in front of the shops but are also often available at train stations, office buildings, and even on the street.
What's hidden behind the food vending machine boom?
Almost two years ago, the COVID-19 pandemic triggered the increased use of vending machines across a wider variety of food industries. It was at that time when we needed to avoid contact with others, and when shops had many restrictions on business hours. But why are they still so popular today? Let's find out!

Reduction of food waste
Vending machines in Japan do not only keep hot and chilled food and drinks, but also keep frozen foods. At a physical store like a restaurant, food preparation is adjusted according to the weather or the number of customers each day. The amount of food to be disposed of cannot be precisely predicted and is one of the most serious issues for the industry to tackle. Frozen food has a longer shelf-life and customers are able to access vending machines whenever they want without reservations or line-ups.

Attracting customers and improving brand awareness
If a shop sets up a vending machine in front of their shop or even somewhere remote, the vending machine can be a great promotional tool to expand recognition and their brand to new customers. If people buy a product there, they may think, Next time, let's go to the shop to eat! It also has the advantage of being able to operate at night when the shops are closed, gathering new clientele who pass by the shop outside business hours.

Working 24/7
Vending machines operate 24 hours a day, 365 days a year. The hurdles for purchasing are also lowered because customers can visit at their preferred timing. For example, if you suddenly want to eat something sweet after a long day of work or after drinking with your friends, you can buy cakes from a famous patisseries vending machine, even at midnight. How convenient is that!

Vending machine collections
I will introduce you to some of the most unique vending machines that you might have ever seen in the country.

Chilled Dessert Vending Machine
This very trendy vending machine sells chilled cakes, puddings, and canelé. What makes the vending machine so popular is that the cakes and puddings are packaged uniquely in a can to look just like an ordinary beverage vending machine!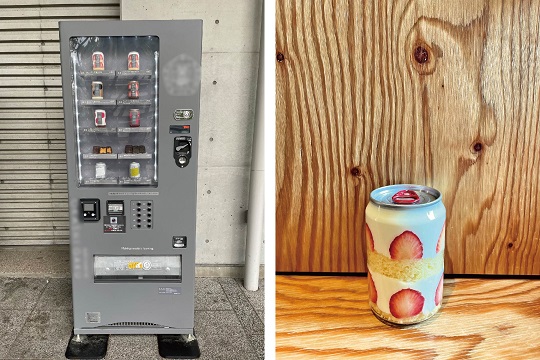 Dashi (soup stock) Vending Machine
I know it may look like a vending machine for drinks, however, it serves dashi soup stock! When I first saw it, even being Japanese, I couldn't believe my eyes. However, since dashi stock is an essential element of Japanese cuisine (Read our blog about dashi to find out more), I admit that a dashi vending machine may be the most important one in Japan.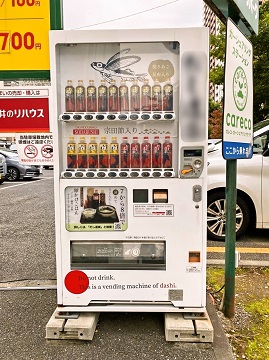 Chocolate Vending Machine
This might be the most delightful news for chocolate lovers! A famous chocolate shop runs a vending machine selling their specialties including chocolate assortments, bars, cakes, and more. Their logoed paper bags are for sale as well, so that picking up the perfect gift can be easy and happen even after their shop is closed!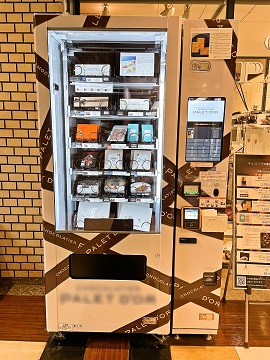 Frozen Ramen Vending Machine
This vending machine serves a variety of ramen from famous ramen shops around Japan. The vending machine is set outside a building where there is no place to eat nearby. All the products are frozen, and the machine does not have microwave function, meaning it was designed for consumers who want to bring ramen home to eat.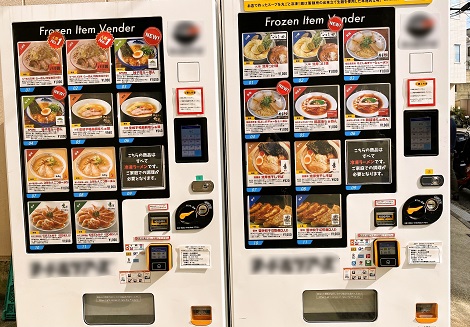 Snack Vending Machine
This might be familiar with the one in your country, but the lineup might be different. In Japan, there used to be many kiosks at train stations, however, in more recent years kiosks have been closing down. Instead, we see snack vending machines increasing. The typical lineup includes sweet snacks like chocolates, candies, and biscuits, to bakery products, and even salty snacks to go with alcohol, which are all typically sold at kiosks.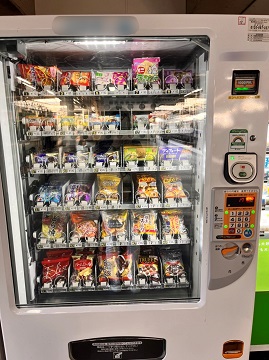 Ice Cream Vending Machine
If there are frozen ramen / frozen meal vending machines, why not have an ice cream one! Actually, this was launched about 40 years ago, still has a lot of fans, and is beloved by all generations.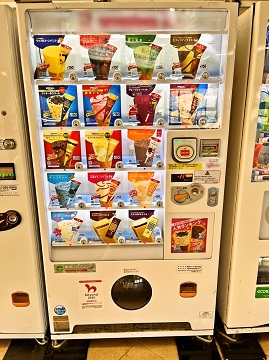 Thickened Drink Vending Machine
Some of the beverage vending machines in Japan now give you an option of adding an extra-thick consistency to your drinks! The concept was Anyone can drink what they want. As Japan is a super-aged society, there are more people who have difficulty with swallowing, and liquids without viscosity, such as water and tea are relatively difficult and even dangerous to swallow. (Read our blog featuring dysphagia diet in Japan to find out more) With this machine, you can choose the levels of thickness, and the option is made available for all types of hot and cold drinks that it sells including coffee, tea, matcha latte, hot chocolate and more.
As you can see, unlike a typical vending machine, these recent vending machines sell more luxury products like branded chocolate, cakes, and ramen that we cannot afford with 100 yen. In addition, Japanese vending machines are flexible and evolving to meet the needs of our changing society.
As the trends are always changing quickly, the popularity of some of those unique vending machines might shrink over time, however, the cost of closing one down is much less than that of a physical store. This might ease the barriers to trying something new, and lead to more product diversity and innovation in our future.
Did you find this blog interesting?
Please share it with your friends in the food service industry.
We regularly update the blog about the food culture of Japan, where TREHA® was discovered for culinary applications.
Click here and send us a message to subscribe.
Or hit us up on Instagram @trehalose_sensei!
You might also be interested in: