In this blog, we touch on diverse topics about Japanese food cultures, practices together with the culinary secret, TREHA®, and its important role in the Japanese food industry. We hope our blog helps you obtain in-depth knowledge of the secrets and science behind Japanese cuisine, shared from our kitchen, to yours.
The French embrace Japanese sweets
In 2016, the Japanese film "Sweet Bean Paste (あん)" based on the novel by Japanese poet Durian Sukegawa came out under the French title "Les délices de Tokyo." The movie touched many hearts in France, and the admiration extended to the translated version of this international bestseller. The original title, "An," meaning sweet bean paste, is one of the most traditional components of Japanese confectionery. The story is about friendships in various social classes and age groups through a small dorayaki shop in modern Japan. One of the main characters talks to and listens to the azuki beans while processing them into the bean paste as if they were precious friends, which inspired the audience to create a Japanese confectionery trend in France. While the French historically embraced Japanese culture and food, this new movement seeded by visual art elevated the presence of little know items such as "dorayaki" and "manju (sweet buns)." Dorayaki, pancakes filled with bean jam, are especially popular among Parisians as a healthy snack, whereas many used to flinch at sweetened beans.
Dorayaki has now evolved in France, producing the "Franco-Japonaise" style. TOMO, an admired Japanese confectionery in Paris, offers various versions, from a simple, traditional Japanese style to French petit gâteau and stacked cake styles. The Japanese pancake sandwich with bean paste continues to march on. "Fou de Pâtisserie," a high-favor magazine known for covering exclusive recipes, featured dorayaki. Meanwhile, many tutorial videos in French on how to make dorayaki can be found on YouTube, which certainly makes us happy and proud to see Japanese sweets, wagashi, being widely accepted in such a casual manner.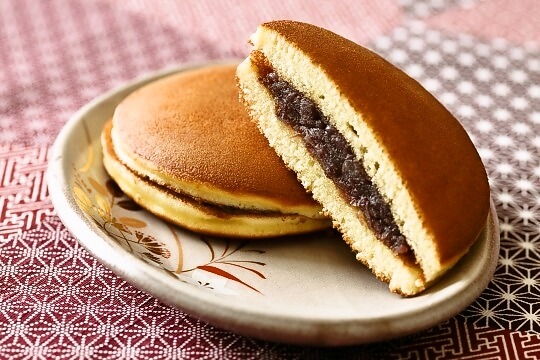 Team Wagashi is to carry on the tradition behind booming Japanese sweets
Along with the growing popularity of Japanese sweets outside Japan, the Japanese government agency started a campaign to define wagashi and its tradition appropriately. "Team Wagashi," led by Chef Toshinaka Shimizu, a cultural ambassador appointed by the Agency for Cultural Affairs, went on a demonstration tour around various European countries. Chef Mayumi Mori, a contributor of some wonderful wagashi recipes to this TREHA® Global website, was also a team member. In addition, a traditional Japanese confectionery shop will soon open its doors in Strasbourg, France. USAGIYA will offer authentic Japanese sweets produced by French artisans trained in Japan.
MOCHI fever in France
While treats containing sweet red bean jam, "an (あん)," keeps growing their presence in France, its forerunner, MOCHI, is the most favored Japanese sweet in Paris. The word mochi is already fully adopted in French, and the definition is understood immediately as similar to the words "sushi" and "karaoke." Some French cannot handle the pronunciation "CHI" and end up pronouncing it "MOSHI," which makes us smile affectionately as the sound is cute. What do you think spurred the appreciation of mochi in France? The answer is the completeness (or perfection) expressed by the round shape and smooth surface, which does not occur to the Japanese. Come to think of it, the satisfyingly soft mochi that fits comfortably in the palms is quite appealing. Such a fresh concept helps us reconfirm the charm of mochi.
Although its description is a rice cake made of pounded glutinous rice, mochi in France refers to round-shaped "MOCHI ICE CREAM" available in the frozen section in retail stores, making them favorite desserts for children. The novel mochi dessert comes in a wide variety of flavors, including passion fruit, mango, raspberry, and other flavors that do not exist in its home country. Among many mochi ice cream manufacturers, the UK-based Little Moon has successfully promoted their products through social media and now boasts the No. 1 market share. Even the world-renowned patisserie, Pierre Hermé Paris, offers "MOCHIS GLACES" (mochi ice cream) in the summer of 2021. The following year, mochi finally became a part of Western confectionery. A celebrity chef, Cedric Grolet, with 326,000 Instagram followers, unveiled a French strawberry cake (Fraisier) wrapped in a thinly-rolled mochi dough at his establishment in Paris' Opera district. According to Chef Grolet, his creation is a new expression of "Fraisier," a traditional French cake. This is an excellent example of the French temperament, which embraces new concepts for improvement while maintaining traditions. Powerful influencers represented by Chef Hermé and Chef Grolet will continue to inspire pastry chefs to try their hand at desserts with mochi.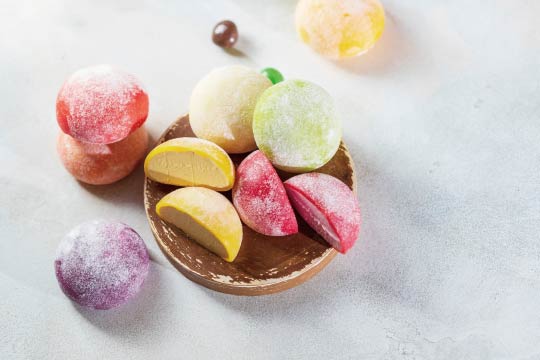 Mochi families flourish in France
I would also like to mention DAIFUKU (大福), another treat from beloved mochi families in Paris. Literally meaning "Great Luck" in Japanese, daifuku is served refrigerated rather than frozen and stuffed with a sweet filling, most commonly sweet bean paste. The French version of this white, round rice cake is filled with creams and ganache. Similarly to mochi ice cream, daifuku recipes have been reconstructed to fit the locals' tastes, making daifuku the second most popular mochi treat after its frozen counterpart filled with ice cream.
"Gâteaux de Mochi" in the 12th arrondissement of Paris is known for daifuku with highly acclaimed flavors, including hand-crafted dried fruits and ganache seasoned with Japanese whiskey. The Embassy of Japan in France served special treats from this praised mochi boutique at its hospitality events multiple times. Gâteaux means "sweets" in French. The daifuku from Gâteaux de Mochi is a pioneer of the flavorful fusion of French confectionery and mochi. When visiting Paris, it may not be long before we are urged to taste delicious daifuku, just like an addictive baguette au fromage.

Our blog covers trends in mochi sweets and recipes. Be sure to check out our past posts.
Did you find this blog interesting?
Please share it with your friends in the food service industry.
We regularly update the blog about the food culture of Japan, where TREHA® was discovered for culinary applications.
Click here and send us a message to subscribe.
Or hit us up on Instagram @trehalose_sensei!