In this blog, we touch on diverse topics about Japanese food cultures, practices together with the culinary secret, TREHA®, and its important role in the Japanese food industry. We hope our blog helps you obtain in-depth knowledge of the secrets and science behind Japanese cuisine, shared from our kitchen, to yours.



Chef Hideo Yokota, owner and chef of Oakwood, has been at the forefront of the pastry world in Japan for more than 40 years. Today he explains two of his recipes using TREHA®. Chef Yokota has worked at many renowned hotels in Japan. In his position as pastry chef at Park Hyatt Tokyo, he was critically acclaimed for the special desserts he made for VIPs visiting from all over the world. After leaving Park Hyatt Tokyo in 2004, he opened his own patisserie, Oak Wood, in Kasukabe City, Saitama Prefecture. In 2005, he was honored as a 'Contemporary Master Craftsman' by the Ministry of Health, Labor and Welfare and in 2018, he was granted the Medal with Yellow Ribbon for industriousness by Emperor Akihito for his great contribution.
Chef Yokota is the chairman of the "Utsumi-kai," an association of pastry chefs that aims to improve new confectionery techniques and skills, train young confectioners, and thus improve the skills of the industry as a whole. Most of the renowned pastry chefs in Japan who support his volition join this group mainly to teach the younger generation, including Chef Mochizuki, who demonstrated at the "TREHA® Culinary Discovery Workshop" held at the Culinary Institute of America at Copia in 2019.
The "Utsumi Cup Technical Competition" organized by the association is also the Japanese representative selection for the "Charles Proust Relais Desserts competition" held in Paris, a gateway to success for young pastry chefs organized by Relais Desserts. Chef Keita Ishiguro, whose interview was featured in a previous article, was the first prize winner of the Charles Proust competition after making it through the qualifying round of the Utsumi Cup in 2018. Chef Ishiguro's victory in the competition is a result of the Utsumikai's main goal of nurturing young technicians, and an opportunity to show the world the high level of skills in the Japanese pastry world.
This interview took place in the summer of 2020. With this in mind, Chef Yokota describes a style of work necessary to co-exist with coronavirus and how that's changed his work as a chef.
"Even though I've been wanting to change the style of work at my patisserie for a long time, I couldn't. The pandemic, however, has forced us to work shorter hours, which allowed me to take this step forward. For example, I was able to move away from the artisanal way of thinking that delicious items require a lot of time and effort, toward realizing that some items can taste just as good without taking as long to make.
At the same time, however, this can also be a dangerous way of thinking; if the quality goes down, the customers will leave, and the business will not be viable. I believe the key to surviving in the future is to balance time and quality management while evolving and seeking out new things.
My ideas are rooted in the competitive experiences I immersed myself in when I was younger. It's about challenging what others won't do and abandoning stereotypes. One of these ideas, of course, is to use TREHA®. The two recipes I'm going to explain today were both created with freezing in mind. These recipes will help us reduce food waste and save time."
"The finnickiest dessert has now turned into the easiest dessert to prepare" - Chef Yokota explains 'Make Ahead and Freeze Soufflé with Banana and Passion Fruit' with TREHA®.
Soufflé is a very special dessert for French restaurants in Japan, but it can be finnicky to prepare. When you receive an order, you have to start with whipping the meringue while preparing for other orders. Still, I know serving freshly made, fluffy soufflé entertains people, so I'd been contemplating how to serve one at my café.
I came up with an idea of freezing the soufflé mixture to store. Compared to sugar, TREHA® enables the batter to remain stable during freezing without adding excessive sweetness. Now I can serve soufflé throughout the year by changing the garniture of the season. The finnickiest dessert has now turned into the easiest dessert to prepare. (Click here for the recipe.)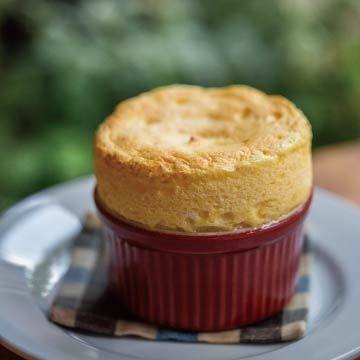 "It's amazing how the sorbet never gets frozen hard!" - Chef Yokota talks about 'Blender-less Tropical Soda Frappé' with TREHA®.
Shaved ice provided every summer at my café is much more time consuming than you could imagine.
Due to the influence of COVID-19, I was forced to shorten the business hours and had to give up offering shaved ice. So, I devised an alternative delicious and time-saving refreshment for this summer. As I do not have a commercial slush machine, I came up with an idea of adding soda into frozen dessert. I picked lemon granita because it has crunchy ice crystals and quickly interfuses with sparkling water.
TREHA® increases the brix of passion fruit sorbet, providing thickness and texture while retaining its softness even under frozen storage. It's amazing how the sorbet never gets frozen hard! Because TREHA® is much less sweet compared to sugar, it also enhances the flavor and aroma of passion fruit. A crispy coconut meringue is a must to complete the popular summer dessert. (Click here for the recipe.)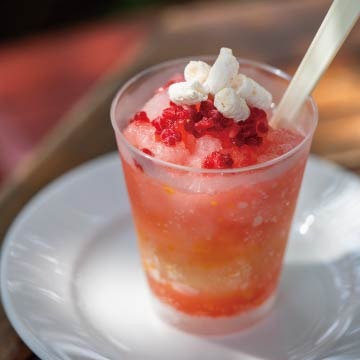 Writer's Note:
Relais Desserts is the France-based association for distinguished patisseries and chocolatiers around the world. Approximately 90 chefs from 19 countries belong to the association. Members are renowned for their high level of expertise; new members need to be nominated by other chef members and pass technical tests to join this exclusive group of chefs.
It is such an honor to announce that Hayashibara Co., Ltd., the manufacturer of TREHA®, has been the first Japanese "premium supplier" of Relais Desserts since April, 2019. Click here for the details of this news.
Did you find this blog interesting?
Please share it with your friends in the food service industry.
We regularly update the blog about the food culture of Japan, where TREHA® was discovered for culinary applications.
Click here and send us a message to subscribe.
Or hit us up on Instagram @trehalose_sensei!
You might also be interested in the following interview articles: