In this blog, we touch on diverse topics about Japanese food cultures, practices together with the culinary secret, TREHA®, and its important role in the Japanese food industry. We hope our blog helps you obtain in-depth knowledge of Japanese cuisine and the science behind it, which is hard to find elsewhere.
On November 18th through 20th, 2019, exactly two years ago, Nagase Food Ingredients hosted a workshop, "TREHAⓇ Culinary Discovery Workshop," in which twelve prominent North American chefs participated at the Culinary Institute of America (CIA) at Copia, in Napa, California USA. The foodservice and R&D experts learned new skills and techniques to add a notch above their careers and experience. While doing so, they did not fail to appreciate cuisines and make acquaintances with industry leaders. The summary is available under the news section on our website. Today, we are going deeper into the personal reactions, feedback, and comments obtained from the chefs.
The workshop opened with "TREHA® 101", which provided the basic information about TREHA® as a freshness provider and the science behind it.
Then the following questions were asked by the participants:
Q: Can TREHA® work for turkey as effectively as for chicken? (as a response to the fried chicken application shown in the picture below)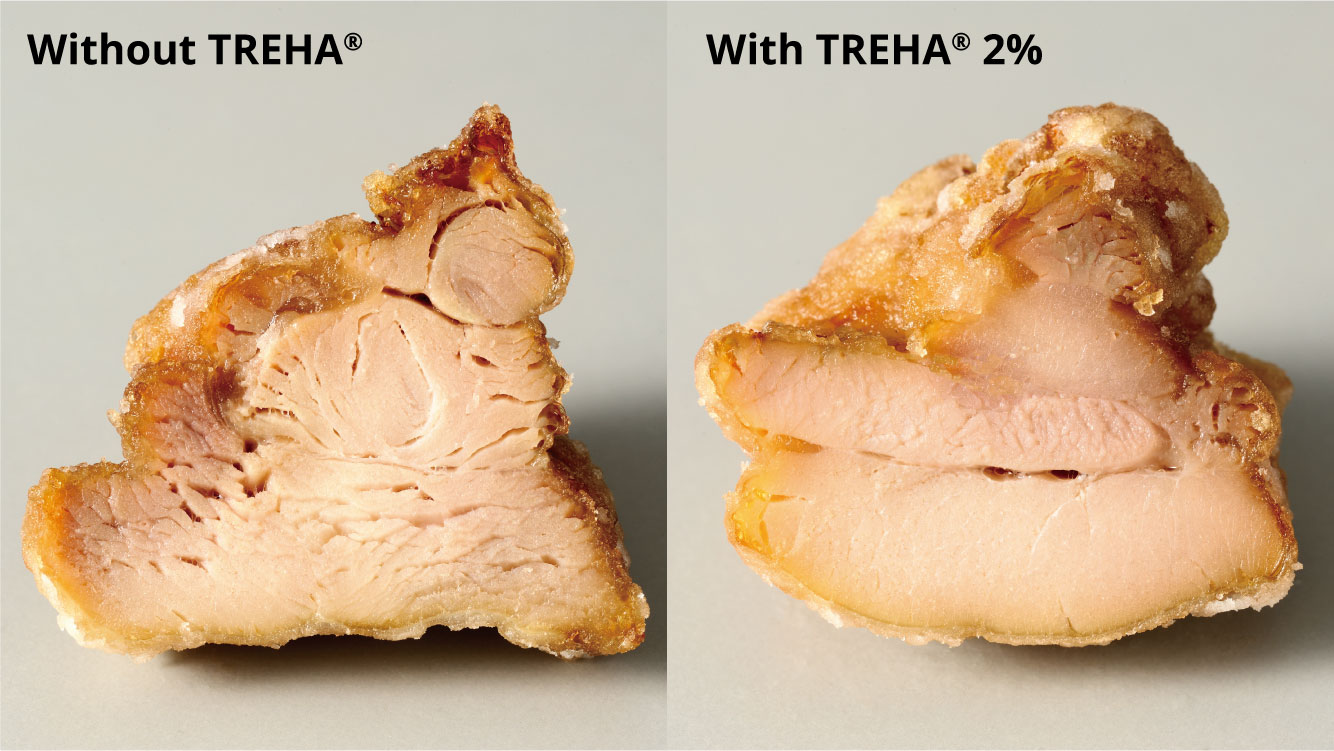 A: Yes, it should work for turkey as effectively as for chicken. (Both chickens and turkeys are both belong to the Phasianidae, the pheasant family.)
Q: Can fresh cucumber and lettuce soaked in a TREHA® solution be used even after being frozen?
A: Though we have never experimented, the application is less likely to work with fresh vegetables. Pickled vegetables could be a better option for the freeze-thaw application.
Even during refrigeration and frozen storage, TREHA® stabilizes the freshness of elements in desserts to enhance desired aspects without losing a chef's professional touch. This allows chefs flexibility in planning the production. To put these valuable functionalities to the test in a practical situation, Japanese-style souffle cheesecake was introduced by Chef Mochizuki of GPS Club (Imperial Hotel Tokyo) using his proven recipe to serve a large group at a banquet.
The participants did taste testing on the cheesecake that was baked and frozen the previous day, then thawed at room temperature for testing purposes. They agreed that TREHA® successfully delivered the anticipated result by preserving the quality and attributes of freshly baked cheesecakes.
Then, the participants tasted the freshly baked cheesecake prepared by Chef Mochizuki before their eyes. The extremely fluffy meringue enhanced by TREHA® was highly appreciated. One chef described excitedly, "An angel's cheek must feel like this!" Chef Mochizuki also incorporated TREHA® for the garnishments to complement the cheesecake. The participants were fascinated with the crispiness of the candied orange slices and the vibrant color of the red berry sauce, which also features benefits of the TREHA®.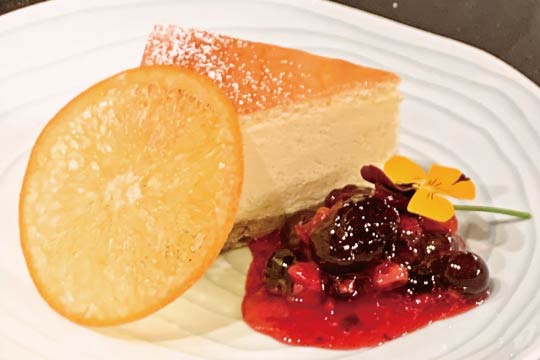 Discovery and feedback about TREHA®:
During the two-day hands-on experience, we received valuable feedback. We dare to share all of it, including thumbs-up, so-so, and thumbs-down by application and why.
Watch the comments made by the participants. (From around 2:45)
Please note that participants' comments are based on each chef's personal culinary experience and preference, which the Nagase Food Ingredients did not scientifically validate. The participant freely experimented with TREHA® applying their visions and techniques inspired by the application ideas and recipes. Thus, the finished product or results could significantly vary depending on the formulation and process.
Thumbs-ups for TREHA® on the following items/aspects (if any):
Beets/Color enhancement with a handful of TREHA® blanched or grilled

Parsnip puree/kept it bright and increased viscosity, translucency, and smoothness

Parsnip chips/maintained great color and crispness

Carrots/improved taste and dried appearance

Carrots & onions/distinct improvement in color

Celery/maintained bright white color

Crudités/made them extremely crunchy with vivid colors

Green goddess dressing/came out bright & vivid and brought out the flavor

Lettuce/maintained crispiness even after being dressed by soaking in a TREHA® solution

Deep-fried fish/become less greasy

Croutons/made them just crunchy instead of chewy crunchy

Sauce/Add creaminess

Roasted chicken/roasted in a nice bronze color with a juicy, plump appearance after being brined in the TREHA® marinade

Pesto/2% TREHA® made the green color brighter

Cured Egg yolk/retained its flavor (not salty), bright color, and stayed fresh and usable for a longer period, allowing many different applications.

Whipped cream/became super light and fluffy using 100% TREHA®, no sugar

Carpaccio/tuna was properly dried off and sliced super thin

Sushi rice/cooked soft and fluffy

Noodles/maintained softness and shape
So-so for TREHA® in the following items/aspects (if any):
Poached pears/texture

Pork/texture

Grilled vegetables

Fried tortilla chips
Thumbs-down for TREHA® in the following items/aspects (if any):
Bread pudding /challenging to do browning (caramelize)

Noodles & sauce /absorbed moisture content and made noodles became dryer

Blanched vegetables and fruits/TREHA® should not be added too much. Just a pinch works.

Pears in salsa/TREHA® worked for apples

Meats/Slight MSG-type taste*
*TREHA® does not contain MSG at all. We took this comment seriously and asked all participating chefs to taste the different solutions (3% sugar, 6% TREHA®, and 3% TREHA®).  It was confirmed that any of the solutions did not taste like MSG. As shown in the chart below, TREHA®, only 38% sweet as sugar, lingers in the mouth more briefly than sugar. Thus, we concluded that the subtle sweetness of TREHA® that enhances umami and saltiness could have been translated into the MSG taste on the chef's palate when it is incorporated into the prepared food. In addition, it was his first time for the chef to taste TREHA®, which is proved to be a culinary secret.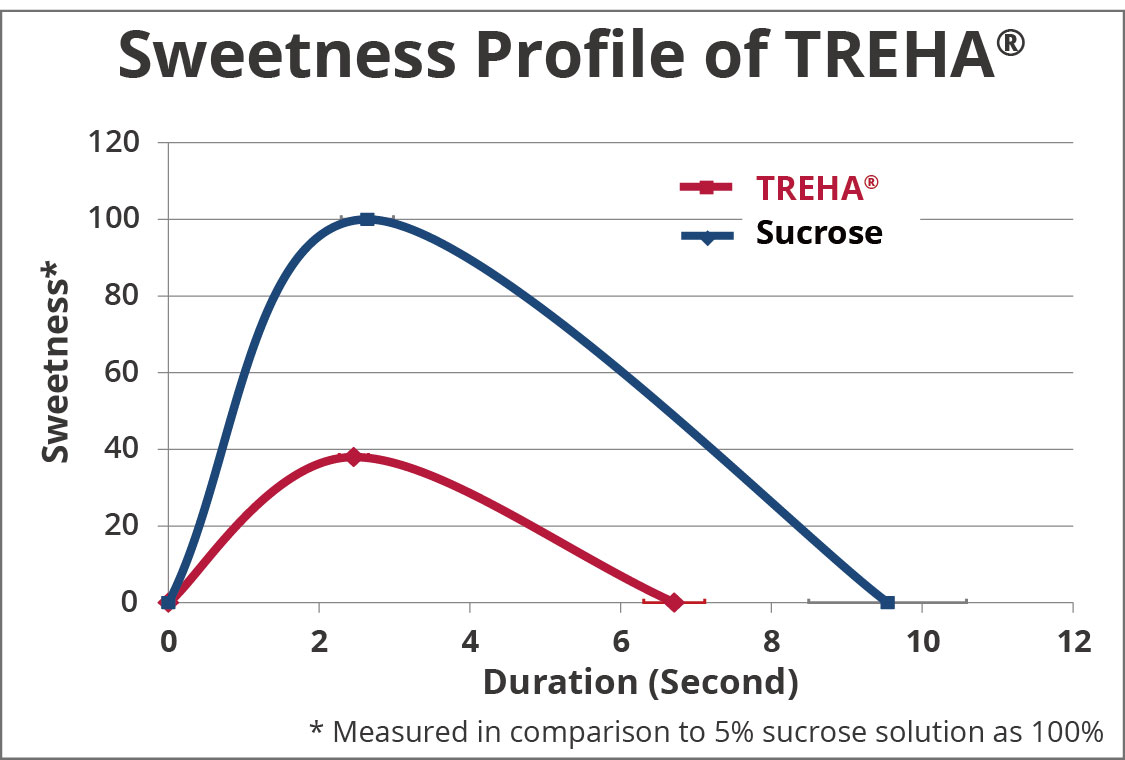 The two most significant features of TREHA®.
No. 1: Baby Gems with San Francisco Green Goddess Dressing
Everyone was thrilled to find the salad dressed the previous day maintained the freshly made texture with any sign of wilting. Click here to watch the testimonial of Chef Barbara, who was the moderator of the workshop.
No. 2: Roasted and Bronzed Chicken
The chef who created this recipe was amazed by the results. He commented, "I had pure confidence that it (TREHA®) would perform well. I didn't think it would perform this well." Click here for the testimonial video, "Watch this chef discover the amazing functionality of TREHA® for the poultry brine."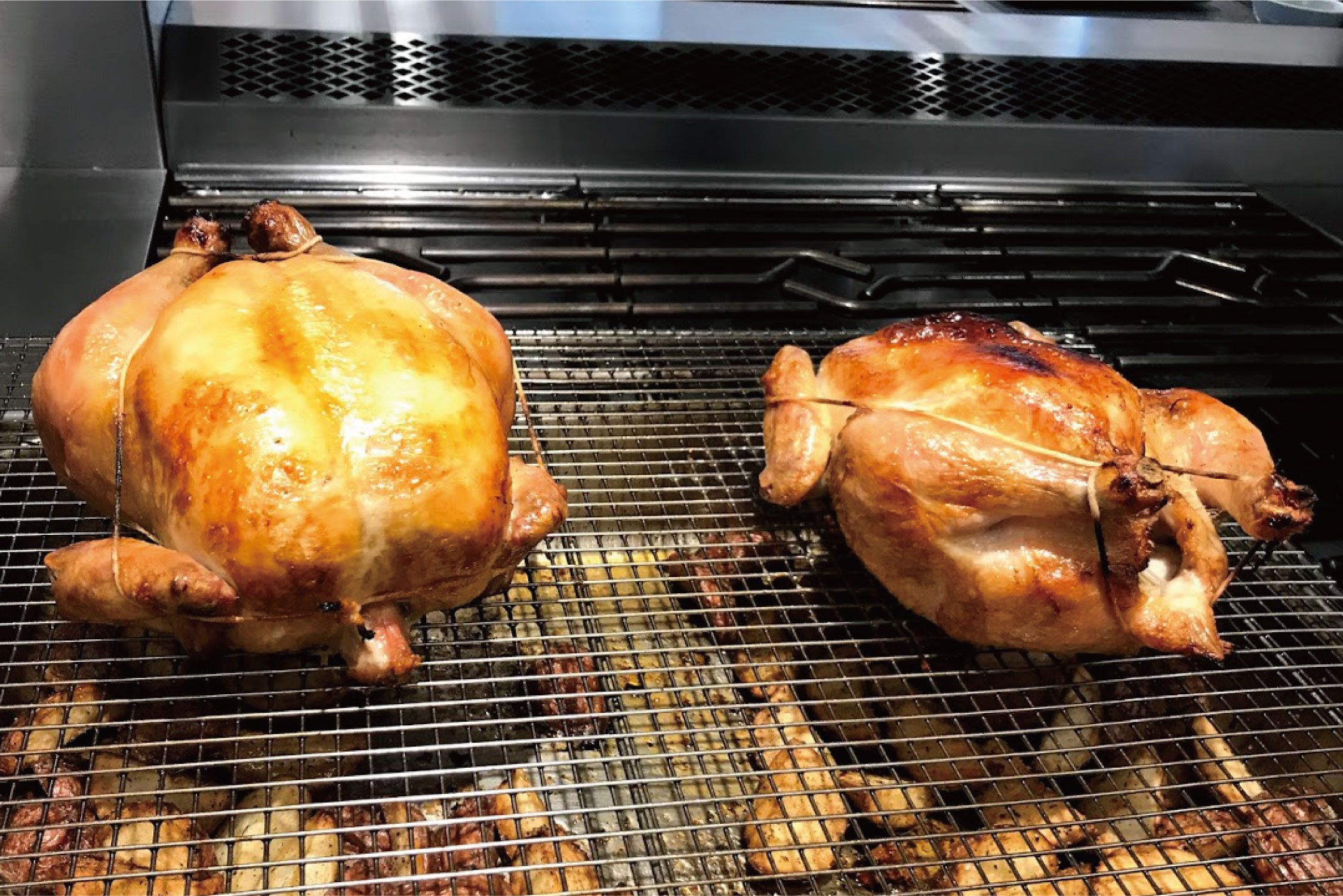 The three-day workshop was a great success thanks to the chefs who enthusiastically engaged in deepening their understanding of TREHA®, which genuinely was our pleasure as the host. We are looking forward to hosting another event like this soon.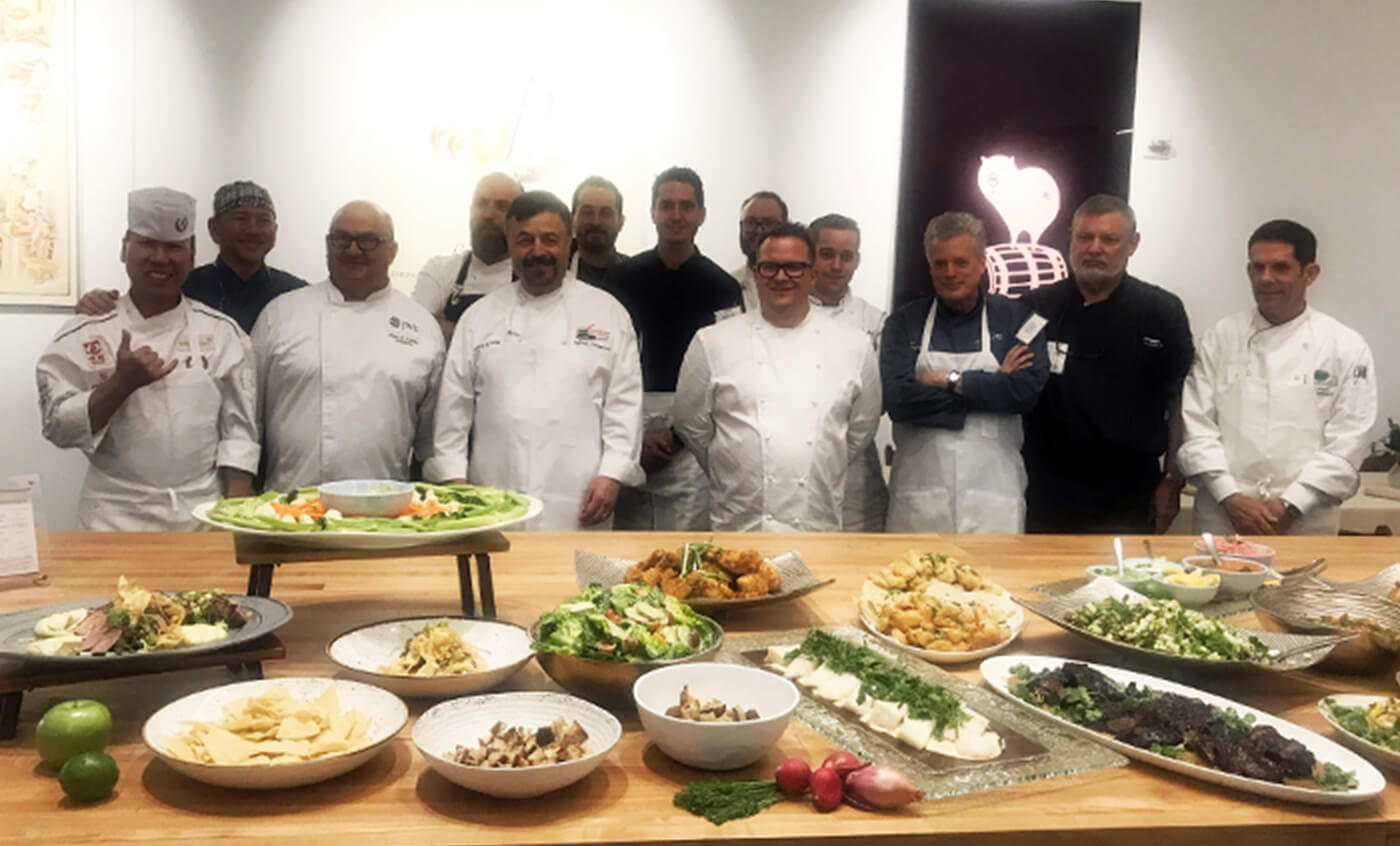 Did you find this blog interesting?
Please share it with your friends in the food service industry.
We regularly update the blog about the food culture of Japan, where TREHA® was discovered for culinary applications.
Click here and send us a message to subscribe.
Or hit us up on Instagram @trehalose_sensei!
You might also be interested in: