In this blog, we touch on diverse topics about Japanese food cultures, practices together with the culinary secret, TREHA®, and its important role in the Japanese food industry. We hope our blog helps you obtain in-depth knowledge of the secrets and science behind Japanese cuisine, shared from our kitchen, to yours.
The interview with Chef Kunikazu Shimomura on October 3rd, 2016, was featured on the Extra Special Issue of Japanese Food Times. Chef Shimomura serves the novel Japanese dished flared with distinguished creativity and personal style.
TREHA® is indispensable for vegetable dishes.
"Creating new tastiness is the lifework for all chefs," says Kunikazu Shimomura, the ambitious chef at restaurant MOTOMACHI SHIMOMURA.
TREHA® is an essential ingredient in "Shimomura cuisine." Chef Shimomura started using TREHA® at his restaurant more than ten years ago. "Before I tried TREHA®, I imagined it was something like alum preventing discoloration of food, but I was surprised by its versatility," Shimomura says.
"For example, when I boil vegetables such as leafy greens, or green soybeans or fava beans with TREHA® added to the water, the brilliant color keeps for longer. By immersing raw vegetables into a TREHA® solution, discoloration and drying are prevented, and the freshness is maintained for a longer time." Shimomura highly appraises TREHA®. "It is essential in my restaurant for enhancing our food, maintaining the vivid color and moisture of vegetables."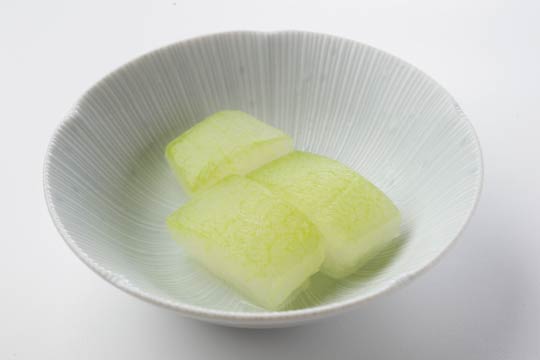 "How do you make such fluffy rolled eggs?"
TREHA® mitigates harsh tastes and unpleasant odors of food, and at the same time, it dramatically enhances food texture and juiciness. "It is also useful for fish dishes and minced meat dishes such as tsukune meatballs. Sprinkling TREHA® on the fish or meat beforehand takes away odors, and what's more, maintains a moist texture after cooking. This is wonderful," Shimomura says in admiration.
Shimomura not only uses TREHA® to pretreat raw materials, but he frequently uses it as a seasoning, too.
"Dashimaki-tamago (Japanese rolled egg) becomes fluffy and smooth using TREHA®. Countless customers ask me, 'How do you make such fluffy rolled eggs?' You will be surprised how often I receive the same question," he says contentedly.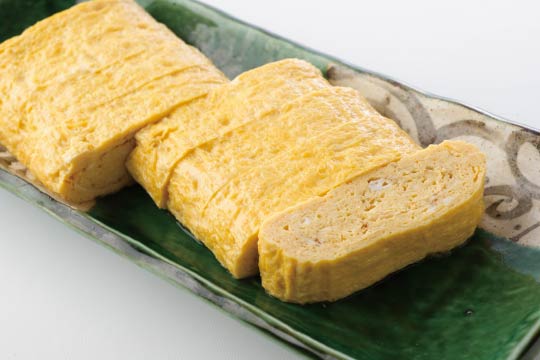 Dishes prepared with TREHA® at MOTOMACHI SHIMOMURA
Yuki no Shizuku (meaning of "snow droplet")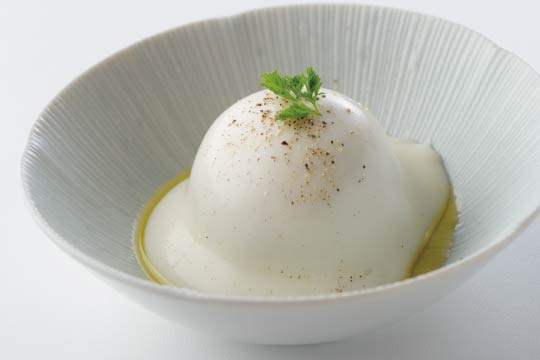 Shimomura's original creation, mashed potatoes in a creamy sauce thickened with Yoshino-Kudzu (arrowroot). This dish won the Semi Grand Prix at a recipe contest hosted by Nikkei Restaurant magazine. TREHA® plays a crucial role in the preparation. Mashed potatoes prepared with or without TREHA® (photo below) show a noticeable difference. With TREHA®, mashed potatoes maintain moisture, resulting in a soft and melt-in-your-mouth texture lasting much longer than those without TREHA®.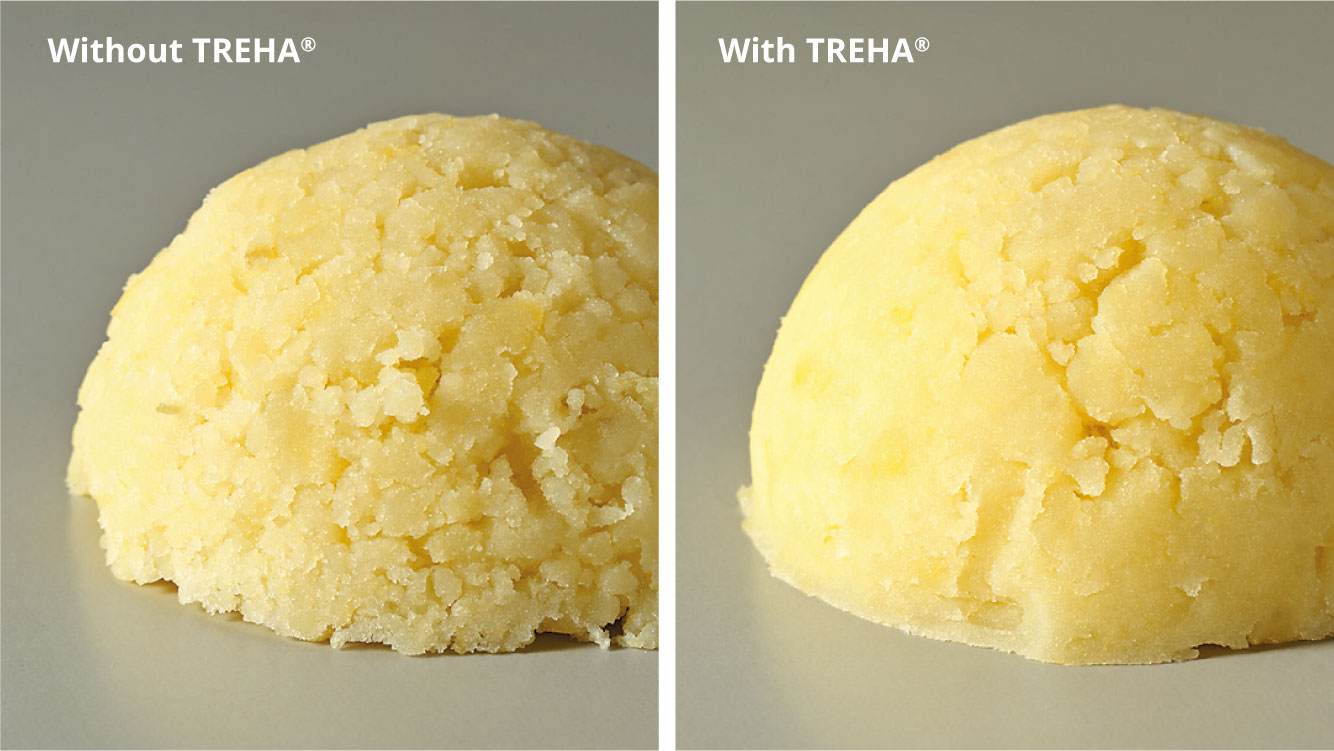 Kurobuta pork stewed in dark sauce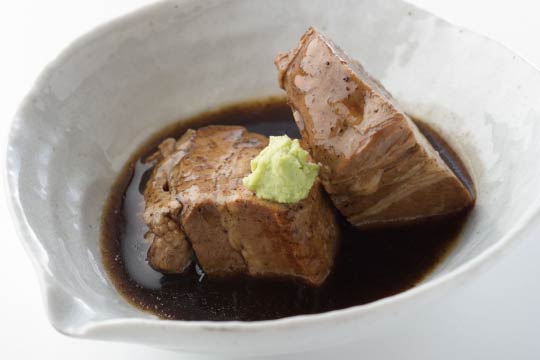 Shimomura's original recipe won the grand prize at the recipe contest hosted by Nikkei Restaurant magazine. Stewed pork in a broth contains pureed hijiki (black seaweed). The chef did not use TREHA® until he started shipping the frozen stew in vacuum-sealed packages. TREHA® maintains the moisture of pork while inhibiting the fat content separating from the broth.
Cooked rice in donabe (土鍋) clay pot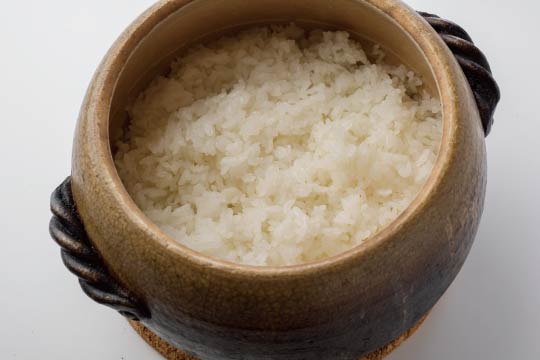 Shimomura uses a donabe clay pot to cook rice with TREHA®. The chef added that "It enhances the fresh aroma of the cooked rice, making it fluffy."
Boiled vegetables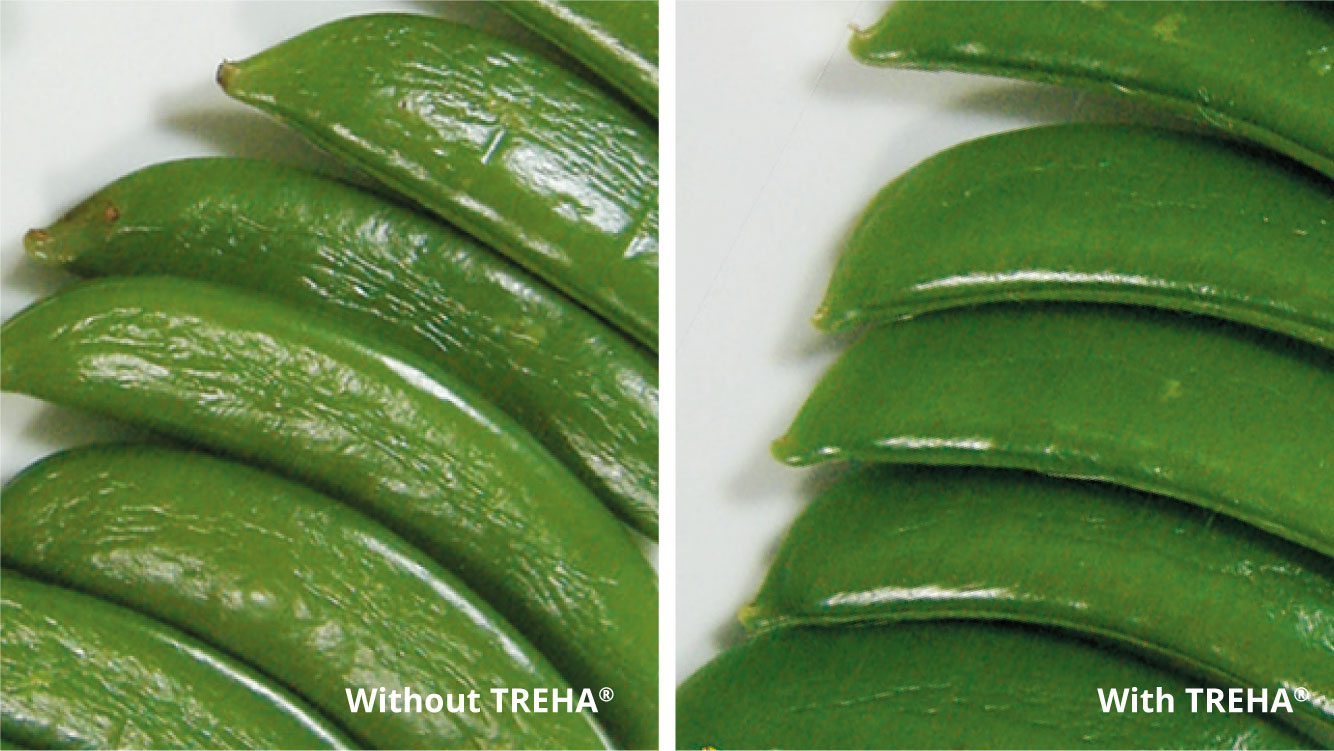 TREHA® is critical to boil vegetables with bright green or yellow tones because it preserves vivid colors while preventing the cooked vegetable from drying. TREHA® also helps vegetables soak up the broth during cooking without falling apart. With TREHA®, the surface of cooked snap peas maintains smooth and moist with a bright green tone.
TREHA® is my ally to reassure the vitality of raw materials.
TREHA® can be used like sugar, but it has less sweetness. This characteristic is a tremendous advantage for preparing dishes with delicate flavors like "surinagashi," a creamy Japanese soup made with ground vegetables, fish, and other ingredients thinned in broth.
"When I make this creamy soup using spring onion, I want to retain the onions' natural and subtle sweetness without adding the strong sweetness, but it is challenging to make the texture smooth and thick without using sugar. In addition, I can't make the soup ahead of time without sugar because it acts as a preservative. TREHA® clears up such problems altogether," Shimomura says. TREHA® provides the advantage of sugar without adding unwanted sweetness to the dishes.
Therefore, at his restaurant, Chef Shimomura frequently uses TREHA® when making sauces stick to foods or making Osechi dishes (traditional Japanese New Year's food) to maintain the freshness for a long time. TREHA® is always stocked on the shelves with salt and sugar in his kitchen. Chef Shimomura, captivated by TREHA®, continues, "In a word, TREHA® is a new ingredient helping me create a good taste. It brings out the natural flavors and characteristics of the ingredients while maintaining food quality for a longer time. TREHA® certainly is the most reassuring ingredient for chefs."
Writer's Note:
"MOTOMACHI SHIMOMURA is a well-established restaurant run by Chef Shimomura. Trained in a traditional Japanese restaurant, Chef Shimomura serves the novel Japanese cuisine flared with his distinguished creativity and personal style. His dishes challenge the conventional concept of Japanese cuisine. The restaurant has no menu; the chef selects what to serve according to what he has purchased at the market on that day.
Location: 3-107 Ishikawa-cho, Naka-ku, Yokohama, Japan
Business hours: 11:30–14:00, 18:00–23:00 / Reservation only
https://www.shimomura-kunikazu.com/
The web content and restaurant service are provided in Japanese only.
Did you find this blog interesting?
Please share it with your friends in the food service industry.
We regularly update the blog about the food culture of Japan, where TREHA® was discovered for culinary applications.
Click here and send us a message to subscribe.
Or hit us up on Instagram @trehalose_sensei!