In this blog, we touch on diverse topics about Japanese food cultures, practices together with the culinary secret, TREHA®, and its important role in the Japanese food industry. We hope our blog helps you obtain in-depth knowledge of the secrets and science behind Japanese cuisine, shared from our kitchen, to yours.
We interviewed Dr. Suzuki, a specialized professor at Tokyo University of Marine Science and Technology in August, 2022. He has conducted research about food freezing technologies and glass transition behavior of many substances.

In the first part of this three-part series interview, he talked about what "freezing" is from scientific point of view, and explained about "glass transition (vitrification)". This time, the topic is about key factors in making high-quality frozen food.


Blanching, sanitation control – technological development under progress for frozen food quality
Team TREHA®: Frozen food quality has been dramatically improved in recent years. Could you explain the technological improvements that has been driving this progress?
Prof. Suzuki: There is progress not only in freezing techniques, but also in processing techniques of raw materials. For example, frozen broccoli florets sold in supermarkets are not frozen from fresh, rather, the broccoli is "blanched" – quickly heated before the freezing process occurs. Broccoli without blanching loses its color even in low temperature such as -18℃/0.4℉. Furthermore, it generates unpleasant odor during thawing. The cause of quality loss is due to enzymes that exist in fresh vegetables, which deteriorate the vegetables' quality even while being frozen, and even worse when activated at room temperature while thawing. Blanching deactivates the enzymes by heat, which helps to maintain the quality of frozen food. It has been one of the major ways to improve frozen food quality; however, we had often encountered "overcooked" frozen foods due to the blanching process in the past. The overcooked products lose original texture after thawing. Now food manufacturers have carried out precise temperature controls and quick cooling after heating to improve quality of frozen food products.
Technical terms related to freezing techniques
Regulations related to food manufacturing are established by each country. Japanese terms and definitions are shown below for your information.
Frozen Processed Food
Frozen food is the industrial and commercial term. It should meet standards of Japan Frozen Food Association, International Standards and criteria below;
Preliminarily cooked or processed

Blast-chilled

Kept under -18℃/-0.4℉

Packaged to be suitable for consumers
On "Food Sanitation Act" designated by Japanese government, frozen food is the food stored under -15℃/5℉.
Frozen Food Materials
Frozen food ingredients distributed in frozen state, such as tuna and fishery products.
Homemade frozen food
Any frozen stuff made at home, such as frozen rice and frozen meat.
Basic principles of food freezing

Asparagus after 2 weeks of frozen storage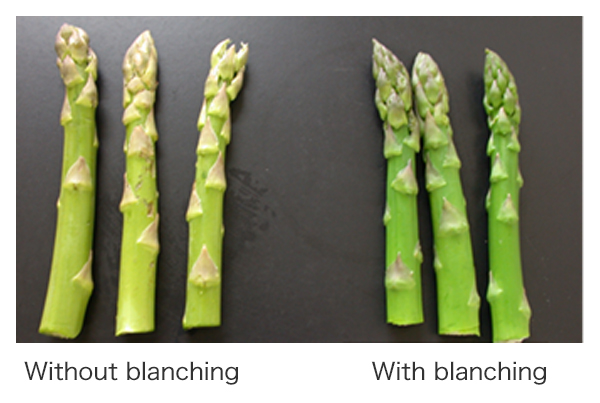 Team TREHA®: Could you tell us about ready-to-eat frozen food?
Prof. Suzuki: We can see many kinds of ready-to-eat frozen foods for room temperature thawing, especially suitable for Japanese bento. As a matter of fact, frozen foods for room temperature thawing are designed carefully in terms of microbial control. A bento box is harsh place for frozen food, because foods with various temperatures (e.g. warm cooked rice, cold vegetables, frozen processed foods) are packed together. Ready-to-eat frozen food is produced with high standards for quality control to prevent contamination and growth of microorganisms. Sanitation control is carried out by keeping out any microorganisms introduced to the ingredients, and the factory is biologically clean at all processing steps. Thanks to the very hard work of food manufacturers, we can enjoy high quality, safe, and ready-to-eat frozen food like meatballs and croquettes for our bento boxes.
On today's blog, prof. Suzuki explained about key factors for producing high quality frozen food, and technological progress related to frozen foods. On next blog, he will talk about ice crystal growth and aggregation - vegetable freezing that we think difficult - and the best thawing technique to maintain the quality of frozen food. How do you usually defrost your frozen food? Please stay tuned!
Did you find this blog interesting?
Please share it with your friends in the food service industry.
We regularly update the blog about the food culture of Japan, where TREHA® was discovered for culinary applications.
Click here and send us a message to subscribe.
Or hit us up on Instagram @trehalose_sensei!
You might also be interested in:
Exclusive interview with professor Toru Suzuki, an authority on the phenomenon of freezing and the science of frozen foods:
#1 of 3, #2 of 3, #3 of 3