In this blog, we touch on diverse topics about Japanese food cultures, practices together with the culinary secret, TREHA®, and its important role in the Japanese food industry. We hope our blog helps you obtain in-depth knowledge of the secrets and science behind Japanese cuisine, shared from our kitchen, to yours.
On April 21, 2023, we had the privilege of sitting down with one of France's most celebrated chefs, Franck Kestener. He generously shared his craft, recipes, and the transformative role TREHA® plays in his culinary creations.
Chef Franck Kestener was born on July 9, 1976, as the fifth generation of an artisanal bakery and pastry legacy. When he was just 16, he aspired to be a culinary chef. However, his father's suggestion--that a deep knowledge of pastry is foundational for any top chef--guided young Kestener toward the world of pastries.
This shift in direction soon bore fruit. By 1995, he had earned second place at "Meilleur Apprenti de France (Best Apprentice of France)." At 27, he earned the 2003 Meilleur Ouvrier de France* (Best Craftsman in France) title in the chocolate and pastry categories. Representing France, he achieved the "Champion du Monde" title in 2006. After taking over his family business, his ambition led him to open a shop in Paris in 2019. Not long after, he received the Chevalier Medal awarded by The National Order of the Legion of Honour.
*Meilleur Ouvrier de France (M.O.F.) is a unique and prestigious distinction in France, awarded only once every four years. It recognizes exceptional craftsmanship and expertise in various professions, setting apart its recipients as masters in their respective fields.
"TREHA® Effectively Bridges Various Textures, Creating a Seamless Bond."
Team TREHA®: How were you introduced to TREHA®, and how long have you used it?
Chef Kestener: I have been using TREHA® for three years. I first came across it in 2019 at the Salon du Chocolat through a member of Team TREHA®. Upon further research, my interest grew. I'm always looking for ingredients that can elevate the quality of my products. TREHA® caught my attention primarily because of its moisture retention capability and subtle sweetness.
Team TREHA®: Can you share which products you incorporate TREHA® into and what specific role it plays in those preparations?
Chef Kestener: I mainly use TREHA® in my pâte de fruit and ganache. Recently, it's also become a go-to for poaching fruits and freshly frosted cakes. I think TREHA® effectively bridges various textures, creating a seamless bond.
Team TREHA®: I appreciate your insights about TREHA® serving as a connecter between diverse ingredients, like fats and water. We assume the subtle viscosity of TREHA® contributes to this.
Team TREHA®: You've mentioned that you use TREHA® in various items. How often do you use it?
Chef Kestener: Almost daily. It is difficult to pinpoint its exact use in chocolate bonbons because I make them in large batches, freeze them, and then take them out for display at the shop. TREHA® is my daily staple since I use TREHA® in freshly frosted cakes.
"TREHA® Extends the Shelf Life of Ganache, Ensuring its Freshness."
Team TREHA®: You mentioned storing chocolate bonbons in the freezer. How does TREHA® play a role in this process?
Chef Kestener: TREHA® helps retain the ganache's freshness over a prolonged period. I cannot address the exact duration, but I am confident that TREHA® contributes to preserving the quality and widening the freshness window. This, in return, aids us in reducing waste and associated costs.
Team TREHA®: Reducing food waste is an advocated practice nowadays. Do you have other sustainable practices in your shop?
Chef Kestener: Sustainability is at the heart of our operations. We have been committed to using most ingredients even before the global movements. For instance, in our apple compote preparation, we cook whole apples and strain out the skins, ensuring we keep waste to a minimum.
Chef Franck Kestener Unveils His Recipes and the Advantages of TREHA®
Résurrection (Resurrection)
This masterpiece delicatelypairs turmeric almond paste and orange jelly.
Chef Kestener's comments: "In my experience, elements like carrot and turmeric naturally complement the orange flavor. This harmonious pairing is often used in culinary creations."
Stanislas
This piece boats Madagascar chocolate with fresh bergamot-infused ganache and bergamot gelée fillings.
Chef Kestener's comments: "By incorporating TREHA® to pâte de fruit, the gel filling structure strengthens over time, inhibiting its moisture from affecting the ganache. This contributes to the pristine finish of the chocolate coating. Additionally, TREHA® improves the moisture retention of the ganache, leading to a longer shelf life."
"I am intrigued to try TREHA® in savory items requiring a certain sugar content but without increasing sweetness."
Team TREHA®: Are there specific items you'd like to experiment with TREHA® ?
Chef Kestener: I am intrigued to try TREHA® in savory items requiring a certain sugar content but without increasing sweetness. This includes products like sablé au fromage (cheese shortbread) and cake salé (savory cakes). Moreover, I am curious to see the results of integrating TREHA® in marshmallows and fruit chips.
Team TREHA®: Would it be possible for you to share your operational plans in the near future?
Chef Kestener: Absolutely! My ambition is to establish the second workshop by 2025. I envision a mini chocolate museum where guests can observe the chocolate crafting process and tools, which complements a shopping area.
Team TREHA®: Your plans sound fantastic! We eagerly await the new workshop. Thank you for sharing your insights with us today.
Franck Kestener-Chocolatier-Confiseur
6 Rue Gutenberg, Sarreguemines, France

7 Rue Gay Lussac, Paris, France
Website: https://franck-kestener.com/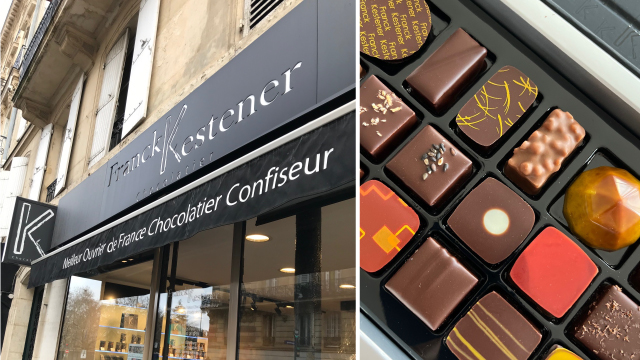 Did you find this blog interesting?
Please share it with your friends in the food service industry.
We regularly update the blog about the food culture of Japan, where TREHA® was discovered for culinary applications.
Click here and send us a message to subscribe.
Or hit us up on Instagram @trehalose_sensei!
You might also be interested in: