In this blog, we touch on diverse topics about Japanese food cultures, practices together with the culinary secret, TREHA®, and its important role in the Japanese food industry. We hope our blog helps you obtain in-depth knowledge of the secrets and science behind Japanese cuisine, shared from our kitchen, to yours.
Our blog features Hayato Yamada, the owner and a chef of Pâtisserie Hayato Yamada, JAPAN. He has worked famous patisseries and hotels, such as CRIOLLO, The Peninsula Tokyo, and Louange Tokyo. He has won the prizes in the Japan Cake Show and Utsumi Cup Technical Competition, organized by Utsumi-kai. "Utsumi-kai" is the association for pastry chefs in Japan working to improve confectionary production skills, training young confectioners, and improving the skills of the industry as a whole, lead by chef Hideo Yokota, who has been at the forefront of the pastry world in Japan for decades.
Chef Yamada opened his own shop in December 2018. In addition to creating beautiful cakes for his customers, he has focused on sustainability in store management and on reducing food waste.
"I have applied the advantages of TREHA® to many items in my shop."
Team TREHA: How did you learn about TREHA®? What made you start using it?
Chef Yamada: I got to know TREHA® from recipes provided by patiserries I previously worked in. Recipes were carefully formulated by senior chefs, so I followed the recipes without amendment. I was not conscious of advantages of TREHA® at that time. After opening my shop, I learned about TREHA® from Nagase again and it grabbed my interest. Since then, I have applied advantages of TREHA® to many items in my shop.
"I keep improving manufacturing processes and ingredients – of course TREHA® is on my ingredients list"
Team TREHA®: Could you tell us how you use TREHA® for your creations?
Chef Yamada: Sponge cake was the first item I tried using TREHA® in. My cakes have relatively bigger volume than other shops, so I try to make my cakes not too sweet. Cake that is too sweet is difficult to eat up, however, tasteless cake is also not for me. I have been adjusting the sweetness of sponge cake by taking advantage of the low sweetness of TREHA®. Although many people say my sponge cake is already high in quality, I still pursue my ideal texture, which balances both melt-in-your-mouth texture and a comfortable firmness. I keep improving manufacturing processes and ingredients – of course TREHA® is on my ingredients list.
Shiny glaze is very important to me too. I regard shiny glaze as one independent layer of the cake, not just a boring cover. My ideal shiny glaze is a juicy layer full of fruit flavor, close to fruit sauces. Glaze that is too thick may spoil the overall profile of the cake; however, too-thin glaze is quickly dried out. I solve this problem by using TREHA®. TREHA® keeps my glaze fresh and juicy in texture without it drying out.
"My solution for reducing food waste resulted in gaining great popularity amongst our customers"
Team TREHA®: Could you tell us about reducing food waste in your shop?
Chef Yamada: I assume many patiserries have trouble with leftover of sponge cake after slicing. Although I try to reuse leftovers as cake crumbs, we cannot use up all the leftovers every day. I do not want to throw away edible sponge cake slices, but I cannot keep storing leftovers because I bake sponge cake every day for making my fresh cakes. When I saw bakery shops selling bread crusts after cutting them off for a cheap price, I realized I could do the same! I packaged sliced sponge cake leftovers in plastic bags, and started selling them as an 'afternoon treat' for a dollar - this gained our patisserie great popularity amongst the customers! Some customers tell me they make their own dessert such as trifle by using the 'afternoon treat', and I am very happy with it. Although the 'afternoon treat' varies day-to-day depending on the kind of leftovers (e.g. dacquoise), I always keep the price the same. Thanks to the 'afternoon treat', I can reduce food waste and gain some profit at the same time. I also make 'cake bento' and 'creamy croissant' for the same purpose. Cake bento is made from Swiss roll ends leftover from slicing, and sliced strawberries covered in whipped cream. Creamy croissant is made by re-baking leftover croissant, and decorating it beautifully with whipped cream and strawberries. Both are popular among customers. I found that having an affordable range of products is important to attract customers. I will keep making efforts to make my shop being loved by everyone, including locals.
Team TREHA®: Being loved by locals is also sustainability in another sense. We are impressed.
"I would like to improve efficiency of the cake manufacturing process with TREHA®"
Team TREHA®: What would you like to try using TREHA® in the future?
Chef Yamada: I would like to improve efficiency of the cake manufacturing process. Although I do think fresher is better, I have a sense of possibility to extend freshness with TREHA®. Now I am thinking about online sales* and hiring new staff – I would like to have more time to think about these things.
* Online sales have started October 2022 after this interview was completed.
Team TREHA®: We hope TREHA® continues to contribute to your progress. Thank you very much for today.
Beautiful recipes from chef Yamada
Chocolate Madeleine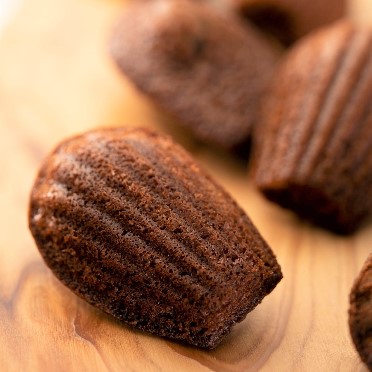 Soft and moist madeleine with a pleasant chocolate flavor. TREHA® helps to keep the freshness of the madeleine after storage.
Click here for Chocolat Madeleine recipe.
Rouge (Red glazed cake with berries and ruby chocolate)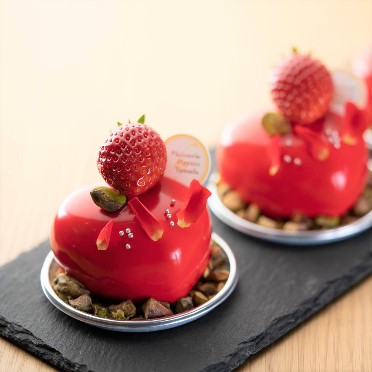 A beautiful red cake using high quality strawberries. Thin shiny glaze provides subtle sweetness and moist, juicy mouthfeel.
Click here for Rouge recipe.
Did you find this blog interesting?
Please share it with your friends in the food service industry.
We regularly update the blog about the food culture of Japan, where TREHA® was discovered for culinary applications.
Click here and send us a message to subscribe.
Or hit us up on Instagram @trehalose_sensei!
You might also be interested in the following interview articles: