In this blog, we touch on diverse topics about Japanese food cultures, practices together with the culinary secret, TREHA®, and its important role in the Japanese food industry. We hope our blog helps you obtain in-depth knowledge of the secrets and science behind Japanese cuisine, shared from our kitchen, to yours.
Our blog features two prominent chefs in Japan. Chef Masahiko Hayashi is the owner and a chef of GATEAU DES BOIS, a sophisticated patisserie in Nara, Japan. He is the first Japanese who won first place in La Coupe du Monde de la Patisserie in France. Chef Shunji Yasuda is the owner and chef of MISS ALBION in Kyoto, Japan. He worked at HYATT REGENCY KYOTO as a pastry chef when he was interviewed.
The interview took place on June, 2013. We wanted to highlight this interview because of their thoughtful perspectives around food sustainability, an important consideration from the market environment in recent years.
Both have used TREHA® to turn their creations up a notch for years. How do they elevate their creations and maximize the advantages of TREHA®?
"Challenges between ideal and real – how to maximize delicacy with efficiency and professionalism."
Chef Hayashi: It has been 11 years since I started using TREHA®*, and it is one of the indispensable ingredients to me. Now I am trying to update my recipes with TREHA® and seeking the best formulations.
Chef Yasuda: Me too. It is no doubt I need TREHA® in my creations, but I am trying to take one step forward.
Chef Hayashi: I am thinking about gaps between what consumers want and what I want to create. Let's think about butter cake – it is originally heavy and rich in butter, becoming solid when stored in a fridge. I was baffled at hearing that Japanese customers said it is "dry". I found I've needed to consider customers' palates along with quality assurance and workforce management. I am trying to respond to expectations from customers without compromising the "non-negotiable line" of myself as a professional chef.
Chef Yasuda: I totally agree with you. I work at a hotel, which has a very strict quality assurance and labor management system. I also try to create the best products with limited time and workforce.
Chef Hayashi: I need to produce bakery items in bigger batches than before to increase productivity. I also need to stock my bakery items to keep availability for online orders. I've tried varieties of formulations, and decided the best-by date of my bakery products is two weeks. But to be honest, I'd like to say it is one week if I ensure the BEST quality for all elements - flavor, fragrance and texture.
Chef Yasuda: I am in the same situation. I produce bakery products with 10 day best-by dates – I would say one week if I ensure the BEST.
Chef Hayashi: I've tried to define clearly what is "freshness" in bakery products. In conditions of taste and appearance, TREHA® helps us to minimize damages caused by storage including freeze-thaw. TREHA® certainly prolongs the "fresh" state of bakery items just a little.
Chef Yasuda: I also tried to determine threshold of "good" quality of my bakery products. Although it was for assessing the maximum advantages of TREHA®, it was actually equal to defining my policy for creating bakery products.
Chef Hayashi: Exactly. As I get older, I realize fundamentally important things to me are not so many. Usage of TREHA® goes the same way.
Chef Yasuda: When I reconstructed my formulations, I actually stopped using TREHA® for several items; however, it allowed me to reacknowledge the strong advantage of TREHA® for some items. TREHA® is indispensable for my juicy, fresh fruit jellies and crispy fruit chips.
Chef Hayashi: Our recipes shown below are our culminations of years of our work. We are professional chefs and we keep updating ourselves for our entire lives.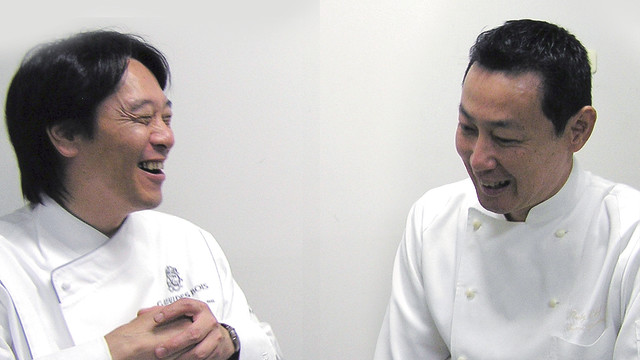 Two chefs introduce how to use TREHA® in their sophisticated creations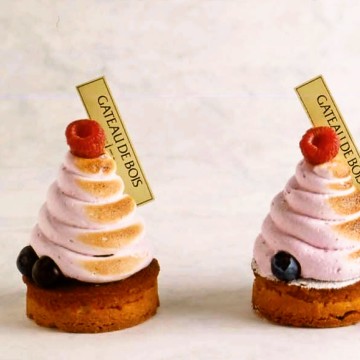 Meringue au Cassis
The thick, fluffy lavender-colored Italian meringue is made with black currant purée. It is thick enough for a fork to slide through, yet as smooth as a mousse or cream. Italian meringue has the reputation of being extremely sweet, yet using a blend of TREHA® keeps this meringue's sweetness subtle and brings the tart black currant to the forefront creating a powerful impression. Black currant syrup containing a blend of TREHA® can be simmered at a temperature two to three degrees lower than that of a 100% sugar-based syrup, allowing the brilliant color of the black currant to come through.
Click here for chef Hayashi's "Meringue aux Cassis" recipe.
Mont-blanc au Chocolat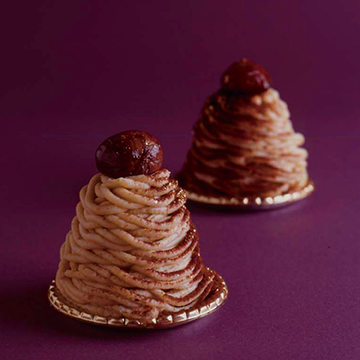 A cake full of Japanese chestnut flavor. The outstanding feature of this dessert is the creamy smoothness of the Japanese chestnut-based mont blanc cream. The secret of this creaminess lies in the addition of "TREHA® glaze", a shiny glaze which is made with a blend of TREHA®. The TREHA® glaze differs from other commercially available plain glazes by being free from both sourness and noticeable sweetness, ensuring it does not interfere with the natural flavors of other ingredients.
Click here for chef Hayashi's Mont-blanc au Chocolat recipe.
Pierrot in Autumn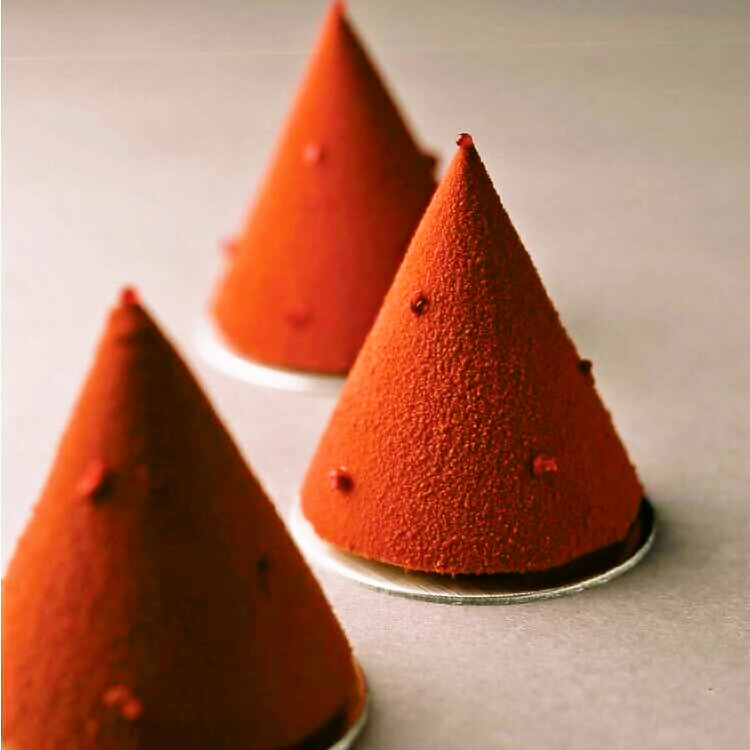 A cake for the autumn season, combining milk chocolate cream and grape cream made from the kyoho, a large, sweet black grape. The exclusive use of TREHA® for the sugar component of the dessert minimizes sweetness and highlights the intense taste of the milk chocolate and the unique natural flavor of the kyoho grapes blended with their skins. The candied macadamia inside the cake, with its crisp texture, is coated with granulated sugar and TREHA®. The coating resists softening compared to pure granulated sugar coatings, retaining its light, crisp texture even when enveloped in mousse.
Click here for chef Yasuda's Pierrot in Autumn recipe.
Tart fromage
This tart is imagined from the image of 'moonlight' in the night-time sky. TREHA® is used all parts of the cake – the cream cheese filling, tart dough and whipped cream. TREHA® maintains the quality of the cakes after freeze-thaw. Cream cheese filling with TREHA® has a light mouthfeel with subtle sweetness, is suitable for hot summer climates.
Click here for chef Yasuda's Tart Fromage recipe.
Did you find this blog interesting?
Please share it with your friends in the food service industry.
We regularly update the blog about the food culture of Japan, where TREHA® was discovered for culinary applications.
Click here and send us a message to subscribe.
Or hit us up on Instagram @trehalose_sensei!
You might also be interested in the following interview articles: