In this blog, we touch on diverse topics about Japanese food cultures, practices together with the culinary secret, TREHA®, and its important role in the Japanese food industry. We hope our blog helps you obtain in-depth knowledge of the secrets and science behind Japanese cuisine, shared from our kitchen, to yours.
Click here for the first half of the interview.

Chef Misuzu Ebihara was born and raised in Ibaraki, Japan. After graduating from a college in Tokyo, Misuzu attended Culinary School at the College of Southern Nevada (CSN), specializing in Pastry Arts. While at CSN, Misuzu gained time management and presentation skills as a Culinary Competition Team member, establishing the firm foundation of her dream career. She gained further experience as a pastry chef at five-star hotels in Las Vegas and a large bakery corporation in Tokyo. Her journey as a business owner started with Cakeshop SUZUYA, an online Japanese cake bakery. On October 1, 2012, Misuzu opened SUZUYA Patisserie, a Japanese-inspired pastry shop that has been growing yearly for over ten years.
Sin City offers top-class culinary diversity
Team TREHA®: What made you want to do business in Las Vegas?
Chef Misuzu: When I was thinking about studying abroad as a full-time student, I learned that the cost of living in Las Vegas was more reasonable than in London, so I came to this city. In the public eye, Las Vegas may be perceived as a gambling and entertainment center rather than a place to live. Still, I love living in the city. I enjoy the top-class culinary culture.
Team TREHA®: Agreed. The city boasts many fantastic restaurants. How hard was it for you to be part of the restaurant scene in Las Vegas?
Chef Misuzu: As you can imagine, it was hard until I got used to it. Because my mindset was built around Japanese standards: following a boss's directions without making excuses for failures or underperformance, I practiced it at the beginning of my career. Later. I realized I needed to speak up to be better understood in the US work environment. I learned to share my intention and ideas using sentences like "My idea is…" or "What I want to accomplish is..." Being assertive with genuine intentions should not be identified as making excuses.
Team TREHA®: Online sales, expanding to other cities; your goals and dreams are only growing, aren't they? Do you have more exciting ideas to share with us?
Chef Misuzu: I'm currently based in the US, but I'd like to be able to keep my connection with my origin, Japan. Also, I am keen on training employees and teaching young bakers. I gave a speech to students at the College of Southern Nevada (CSN), my alma mater, which offered me a teaching position. Now I serve as a CSN Culinary Department Advisory Board member while running my business as a primary focus. As a successful Japanese-style bakery based in the US, SUZUYA hosts online workshops and training programs for novice and professional bakers in Japan. I want to be more active in teaching and training those interested in following my path.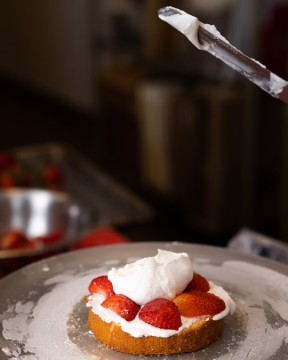 A charming dream seeker is in love with her partner, ice-hockey and TREHA®
Team TREHA®: What kind of hobbies do you have when you are working?
Chef Misuzu: I admit that my hobby is my work, and I've been thinking about work all the time, even during my off days. My husband (American) suggested me developing interests outside my professional life, so I started rooting for the local ice hockey team. I fell in love with the feeling of becoming one big cheering team through the sport.
Team TREHA®: It's nice of your husband to care for you.
Chef Misuzu: My husband is also a very important partner in my work. At first, it was his side hustle, but now he supports SUZUYA full-time.
Team TREHA®: It is a true American dream! It is an honor that TREHA® is helping an ambitious chef like you pursue big dreams.
Chef Misuzu: I am completely honest about this. If I hadn't discovered TREHA®, I wouldn't have made it this far. Thanks to TREHA®, all staff members at SUZUYA can make good quality cakes. Since becoming a business owner earlier, I have wanted to learn and grow. I am grateful and excited to know I can try TREHA® for egg-based products such as pudding and custard.
Team TREHA®: Your approval is encouraging. TREHA® retains the freshness of various prepared food items with a strong affinity with water. Although it takes some experiments to discover your ideal applications, TREHA® would raise the quality of your products by a notch. Thank you very much for your time today. I wish you all the best in your future endeavors.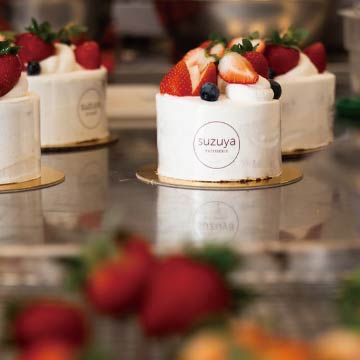 Food connects, encourages, and makes us committed.
After the interview, we had dinner at Sparrow + Wolf. This locals' favorite is run by Chef Brian, who participated in the 2019 TREHA® Culinary Discovery Workshop. The fusion restaurant is known for skillfully incorporating Japanese ingredients into standard American items. We were pampered by fantastic dishes filled with pleasant surprises personally served by Chef Brian. During this enjoyable after-work session, we learned that Chef Brian is also a customer of SUZUYA. We once again realized the extensive culinary network in Las Vegas, filled with gastronomic delights.
While sharing private views about food topics as our common interest, we landed on a topic about authentic French bakeries sprouting in the suburbs and then learned about the Burgundy French Bakery Cafe Bistro. The owner, Chef Florent, is a good friend of Chef Misuzu who worked with her at a resort hotel on the Las Vegas Strip. Team TREHA® never missed the chance to stop by the shop the next day. The café was another locals' favorite, just like SUZUYA. The café au lait and croissant sandwiches successfully translated the chef's love and passion for the bakery in the authentic French style, reminding us of the well-used phrase, "good food makes people happy."
Interestingly, the idea of food absorbing energy is talked about in the Japanese tea ceremony. Matcha green tea is prepared using a uniquely shaped bamboo whisk. According to an acquaintance of the blog author, the curved strings of a bamboo whisk would transmit the preparer's energy into the tea and determines the taste. Chef Misuzu, Chef Brian, and Chef Florent are active in transforming their culinary passion into delicious food, attracting many admirers. As fellow associates in the food industry, Team TREHA® renewed their commitment to supporting culinary explorers to reach their destinations.
SUZUYA Patisserie: Las Vegas cake bakery
7365 S Buffalo Drive, Suite115, Las Vegas, NV 89113 USA
Website: https://suzuyapatisserie.com/ 
Instagram: @suzuya_patisserie
Facebook: https://www.facebook.com/SuzuyaPatisserie/ 
Did you find this blog interesting?
Please share it with your friends in the food service industry.
We regularly update the blog about the food culture of Japan, where TREHA® was discovered for culinary applications.
Click here and send us a message to subscribe.
Or hit us up on Instagram @trehalose_sensei!