In this blog, we touch on diverse topics about Japanese food cultures, practices together with the culinary secret, TREHA®, and its important role in the Japanese food industry. We hope our blog helps you obtain in-depth knowledge of the secrets and science behind Japanese cuisine, shared from our kitchen, to yours.
Chef Misuzu Ebihara was born and raised in Ibaraki, Japan. After graduating from a college in Tokyo, Misuzu attended Culinary School at the College of Southern Nevada (CSN), specializing in Pastry Arts. While at CSN, Misuzu gained time management and presentation skills as a Culinary Competition Team member, establishing the firm foundation of her dream career. She gained further experience as a pastry chef at five-star hotels in Las Vegas and a large bakery corporation in Tokyo. Her journey as a business owner started with Cakeshop SUZUYA, an online Japanese cake bakery. On October 1, 2012, Misuzu opened SUZUYA Patisserie, a Japanese-inspired pastry shop that has been growing yearly for over ten years.
It was a windy afternoon in November. After a 10-minute drive from the buzzing and dazzling Las Vegas strip, we arrived at SUZUYA Patisserie, a cozy Japanese-style bakery shop. While waiting for Chef Misuzu for the interview, locals continued to pour into the store, seeking intricately prepared treats and drinks.
It all started with a whipped cream issue
Team TREHA®: How long have you been using TREHA®? How did you learn about it, and what made you want to try using it?
Chef Misuzu: I don't remember exactly, but about four years ago, I learned about TREHA® through a distributor. Since the recommendation came from a reliable sales rep helping me procure ingredients that take work, I tried TREHA® without hesitation.
Team TREHA®: What kind of items do you use TREHA® for? What are your favorite functionalities?
Chef Misuzu: When I was initially introduced to TREHA®, I had a problem preparing whipped cream. I tried everything that included heavy whipping cream with the highest milk fat content, but the cream did not foam as I expected, causing water release. I was able to resolve this with TREHA®. In addition, TREHA® does not interfere with the cream's signature dairy flavor profile due to its low sweetness, which I liked very much. Since Las Vegas's climate is drier than Japan's, I am using TREHA® to maintain moisture in bread loaves and sponge cakes.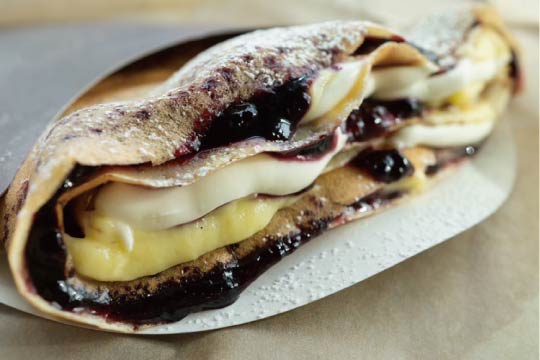 TREHA®︎ plays a critical supporting role in ensuring high standards for our team's overall baking skills.
Team TREHA®︎: We had the delicious custard pudding earlier, featuring an extraordinarily smooth and rich texture. Amazingly, no air bubbles were recognized in the pudding or even on the internal wall of the jar. Highly crafted pudding like yours is hard to come by, even in Japan, where custard pudding is considered a touchstone of a patisserie's skill level. We would like to know if you use TREHA®︎ for the pudding.
Chef Misuzu: I have yet to try TREHA® for pudding or custard cream. It is technically challenging to make a pudding in the best condition consistently. I spent much time perfecting the existing recipe and procedure. Reformulating the recipe with TREHA® could require the same amount of work I put in, but I love to try when I am ready. It should work well based on my experience. What I like TREHA®︎ the most is its excellent moisture retention property. TREHA®︎ maintains the optimal condition of whipped cream and plays a critical supporting role in ensuring high standards for our team's overall baking skills.
Team TREHA®: We understand that TREHA® helps train staff members to gain the same skill level as yours. We are sure that customers appreciate taste of their favorite items being always guaranteed.
SUZUYA is ready to create happy memories throughout the US.
Chef Misuzu: Let me share my future goals with you. We are ready to expand our business since we established a solid business foundation in Las Vegas after ten years. Our cake sales increased tremendously during the pandemic as many customers ordered them as gifts. We discovered that a beautiful cake delivered to the home is a genuinely indulging gift. This experience motivated me to put more effort into online cake sales. Through many experiments using TREHA®, we confirmed that cakes could be frozen and shipped without sacrificing quality.
Team TREHA®: Wow, it is impressive to hear that. Thank you for being such a loyal user. Intricately decorated cakes are also in high demand during the holiday season in Japan. To increase work efficiency during the busy season, TREHA® users produce and freeze cakes with basic frosting, defrost them, and add details before shipping, serving, or selling at storefronts. We are pleased to hear that you are confident with the quality control.
Chef Misuzu: We recently moved to this location, and our kitchen is larger than the last place, but we are already getting cramped and running out of space to stock up on materials. Since the online business will soon play a more prominent role, I want to facilitate a central kitchen with a higher production capacity. In addition, I am interested in increasing the number of physical locations besides our current location in Las Vegas. I want people in Los Angeles, Hawaiian cities, Seattle, and New York to experience the taste of SUZUYA.
Team TREHA®: Fantastic! It is a big dream! How did you come up with the lovely name for your business, "SUZUYA"?
Chef Misuzu: My cousin named our business using a part of my name, SUZU, and YA (meaning a "shop" in Japanese.) The name resembles Fujiya, a Japanese cake restaurant chain, one of the most exciting places for me as a kid in the 80s. I initially debated the name because the pronunciation could be awkward for the US audience, but I dared to adopt the name tied to my happy childhood memories. I hope our brand name excites families all over the US. Our strawberry shortcake is the most popular item, just like it is at Fujiya. Yes, you guessed it right. We use TREHA® for both sponge cake and cream!
Team TREHA®: We are so honored.
Chef Misuzu is unstoppable when sharing her goals, ambition, and dreams. The interview continues to the next blog posting. Please stay tuned.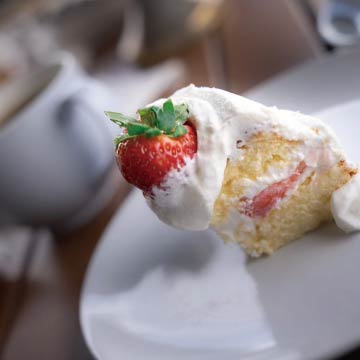 SUZUYA Patisserie: Las Vegas cake bakery
7365 S Buffalo Drive, Suite115, Las Vegas, NV 89113 USA
Website: https://suzuyapatisserie.com/
Instagram: @suzuya_patisserie
Facebook: https://www.facebook.com/SuzuyaPatisserie/
Did you find this blog interesting?
Please share it with your friends in the food service industry.
We regularly update the blog about the food culture of Japan, where TREHA® was discovered for culinary applications.
Click here and send us a message to subscribe.
Or hit us up on Instagram @trehalose_sensei!