In this blog, we touch on diverse topics about Japanese food cultures, practices together with the culinary secret, TREHA®, and its important role in the Japanese food industry. We hope our blog helps you obtain in-depth knowledge of the secrets and science behind Japanese cuisine, shared from our kitchen, to yours.



Today, we would like to present an interview with Chef Andy Matsuda, CEO and Chief Instructor of Sushi Chef Institute (SCI) in Torrance, California. The interview took place on August 26th, 2021.
Chef Andy founded Sushi Chef Institute (SCI) to pursue his goal to foster culinary professionals who understand and prepare Japanese-style sushi outside of Japan in 2002. SCI has trained more than 1,800 sushi chefs actively working in 35 countries, including the US, Netherlands, Denmark, Hong Kong, Taiwan, and Argentina.
With the mission of "inspiring the world with the essence of traditional Japanese cooking skills and knowledge," Chef Andy is actively engaged in professional training, sushi catering services, workshops, consultation for opening restaurants to the graduates and public. His goal is to nurture the Japanese traditional sushi culture and educate professionals who relay the tradition onward.
At the age of 20, Chef Andy took a backpacking trip through 16 nations, including the European countries, the US, Canada, wanting to see the development of sushi culture outside of Japan. He discovered Los Angeles had the most advanced sushi culture through his journey. After training to be a sushi chef in Japan, Chef Andy moved to the US at the age of 25 and witnessed a high demand for sushi chefs and shortage in the US, driving him to establish the SCI. In addition to running the school, Chef Andy leads the sushi and Japanese cuisine team on the Holland America Line's cruise ships as a member of the Holland America Line Culinary Council® consists of eight experts.  Chef Andy was named among "the 100 Japanese people the world respects" (Newsweek Magazine Japanese Edition) in 2007. Subsequently, in 2019, the Ministry of Agriculture, Forestry and Fisheries of Japan appointed Chef Andy to be "Japanese Cuisine Goodwill Ambassador."
In 2020, Hayashibara Co., Ltd., the manufacturer of TREHA®, announced the sponsorship agreement with Sushi Chef Institute (SCI). Click here for details.
"TREHA® was indeed an eye-opener for me" - Sushi sensei Chef Andy talks about his first contact with TREHA®. 
Chef Andy: My first encounter with TREHA® was in November 2019 at the TREHA Workshop at the Culinary Institute of America (CIA) in Copia. I was surprised how the baby gem salad (pictured below) stayed fresh and crisp without wilting even after being dressed the previous night. TREHA® was indeed an eye-opener for me.
Click here for the article to celebrate our 2nd anniversary of the "TREHA® Culinary Discovery Workshop" held at the CIA at Copia.
Click here for the testimonial video "How Fascinating TREHA®!" by Chef Barbara, the workshop moderator.
Team TREHA®/Mari: I heard you tried TREHA® on many things as soon as you learned at the workshop.  How are you using TREHA® at your school now?
Chef Andy: My primary applications are salmon pre-treatment and Shari (sushi rice). The salmon fillet maintains its appetizing pink color after marinating with TREHA®.
At SCI, we teach students how to cut a whole fish. Thus, we usually order the whole salmon to use in the classes for training purposes. 
Salmon requires a cooking or freezing process before consumption to eliminate the potential risk of parasites such as Anisakis. Nowadays, parasite-free salmon are available thanks to evolving aquaculture technology with rigorous quality control in raising and feeding the fish.  But, here in California, salmon need to be kept frozen for one week before thawing it to use.  As far as I remember, the requirement for frozen storage was 48 hours in Japan. California initially enforced a 48-hour freezing time, but it extended to 72 hours and finally to one week. Hokkaido, the northern part of Japan, features a traditional dish "ruibe," sliced and seasoned frozen salmon. By experience, the locals developed this cooking method to avoid the risk of parasites.
As for the pre-treatment of salmon, I sprinkle a mixture of salt and TREHA®, let it sit for about an hour until a cup of water gets drained out of the fillet, rinse, wrap in plastic wrap, and freeze it for a week. Salmon will be ready to use after thoroughly defrosted.  
Because SCI uses a super freezer, the taste of the fish doesn't degrade in a week or so, but when it comes to retaining color, TREHA® is significantly beneficial. I particularly value this functionality.
My other TREHA® application is for Shari (sushi rice). We use TREHA® to prepare sushi rice in our classes, using the term "SUSHI TREHA." Here are the test results from the three samples prepared today. Sample #1 was designed with TREHA® added to a rice cooker before cooking. I prepared Sample #2 by adding TREHA® to the sushi vinegar. For Sample #3, I tried sprinkling TREHA® on the sushi rice we would typically make. My conclusion after taste-testing all samples is that the best method is to add TREHA® when cooking rice.  I am under the impression that TREHA® is not evenly distributed in the sushi rice When added or sprinkled after a cooking process.
Let me show you the results of another experiment. This rice in this bag was prepared with TREHA® today, about 4-5 hours ago. The other one was cooked yesterday without TREHA®. As you see, without TREHA®, Calrose (medium grain rice) becomes dry and brittle after 5-6 hours.  This level of dryness makes the rice extremely unappetizing. I dared to taste it, but I admit that rice is not edible without TREHA®.
With fewer opportunities to eat sushi at restaurants due to the ongoing pandemic, customers' choices are limited to delivery service, takeout, or purchasing deli items at supermarkets.
Under the health regulations, sushi must be stored at 45℉ or below, which is challenging for sushi rice to stay fresh, whereas the toppings or fillings withstand the temperature. The rice, a critical component in sushi, inevitably becomes hard. A consumer doesn't become a repeat customer if rice quality is not met the expectation.
I don't think delivery service and takeout will ever go away in the "new normal with COVID." The quality of the rice must be taken into consideration more than ever. People accustomed to hard sushi rice may not care much, but I aspire to raise the current quality by a notch because this effort will nurture and increase sushi lovers.
Sushi is subject to health regulations that specify the storage temperature, pH range, and expiration date. Even though it does not magically extend the shelf life set by the rules, TREHA® supports sushi to be fresh and consistently good-tasting until the last minute before the expiration. I believe happy customers would finish such sushi without wasting any of it.
The secret of why SCI's program work
Team TREHA®/Mari: I had the opportunity to observe your class in the morning. I was impressed to see the students were fully committed to the lessons.
Chef Andy:  The sushi industry expects 5 to 10 years of training for a candidate to become a full-fledged sushi chef.  SCI's program prepares the students to face de facto industry standards in two months. The students are roughly 80% Asian, including 5-10% Japanese decadence and 20% Westerners.  Looking at their career backgrounds, only about 30% are experienced in the food and beverage industry, and 70% are entirely newbies.
At SCI, we teach the basics of sushi rice preparation, Japanese knife sharpening, fish cutting techniques, and sushi roll & nigiri making. 
Sushi restaurants keep sprouting weekly in the US, which invites a high demand for sushi chefs and subsequent plentiful "digital sushi chefs" who learn how to make sushi rolls by watching tutorial videos on YouTube; perhaps because sushi rolls are considered easier than hand-formed ones. 
Because 80% of sushi consumed in the US are sushi rolls, even self-taught folks bred by YouTube are recognized sushi chefs and landing on jobs. 
Once hired, a sushi chef gets overwhelmed with the day-to-day operations and loses opportunities to improve skills and techniques, making the chef capable of preparing sushi rolls but incapable of making sushi rice or sharpening knives. The chef ultimately misses out on career opportunities leading the restaurant.  
This is why we teach the students everything necessary to be future leaders. Our program and philosophy work successfully. Proof?  SCI constantly receives job offers for all graduates.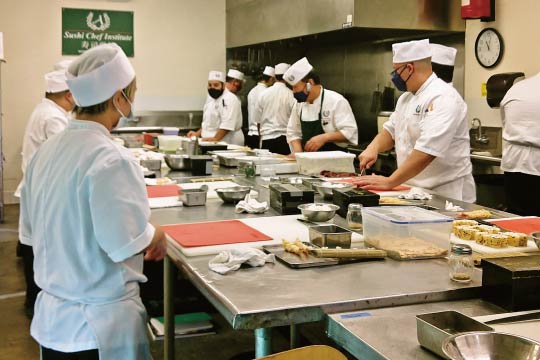 In the following article, we will introduce Chef Andy's efforts on sustainability. Stay tuned!
Click here for 'Exclusive interview with Chef Andy Matsuda of Sushi Chef Institute in Torrance, California: 2 of 3.'
Click here for 'Exclusive interview with Chef Andy Matsuda of Sushi Chef Institute in Torrance, California: 2 of 3.'
Did you find this blog interesting?
Please share it with your friends in the food service industry.
We regularly update the blog about the food culture of Japan, where TREHA® was discovered for culinary applications.
Click here and send us a message to subscribe.
Or hit us up on Instagram @trehalose_sensei!