Hayashibara Co., Ltd. (Headquarters: Okayama, Japan, President: Naoki Yasuba), Nagase Food Ingredients, the food ingredient business unit of the NAGASE Group, has signed a sponsorship agreement with Sushi Chef Institute (SCI) in Los Angeles County, USA. In Torrance, California, Andy Matsuda (CEO and Chief Instructor) founded SCI pursuing his goal to foster culinary professionals who understand and prepare Japanese-style sushi outside of Japan in 2002. SCI graduated more than 1,800 graduates to 35 countries so far.
Chef Andy was introduced to TREHA® (the product name for trehalose), a plant-based food ingredient with the amazing natural functionality to enhance the freshness of a wide variety of prepared foods, at the TREHA® Workshop sponsored by Hayashibara at the Culinary Institute of America in November, 2019. Chef Andy learned about the various functions of TREHA® and saw how valuable TREHA® can be in enhancing the quality of sushi rice and fish.
Instructors at SCI will place embroidered TREHA® logos on their chef coats while teaching classes and participating in events. TREHA® will be actively used and promoted in SCI's activities and featured on social media.
Hayashibara continues sharing the culinary applications of TREHA® to the world.
Words from Chef Andy Matsuda
It is challenging for hotels and cruise ships to obtain high-quality Japanese rice outside of Japan. The alternative is California rice or other less suitable rice. I think TREHA® is effective in terms of maintaining the moisture of cooked rice. However, most chefs do not know the effects and applications of TREHA® . I think an instructor like myself can help the chefs to be educated to prepare delicious sushi. The cruise lines resume sailing next spring and the Holland America Line® completed a new cruise ship in July. At the sushi bar that I am in charge of, I would like to recommend and use TREHA® for sushi rice.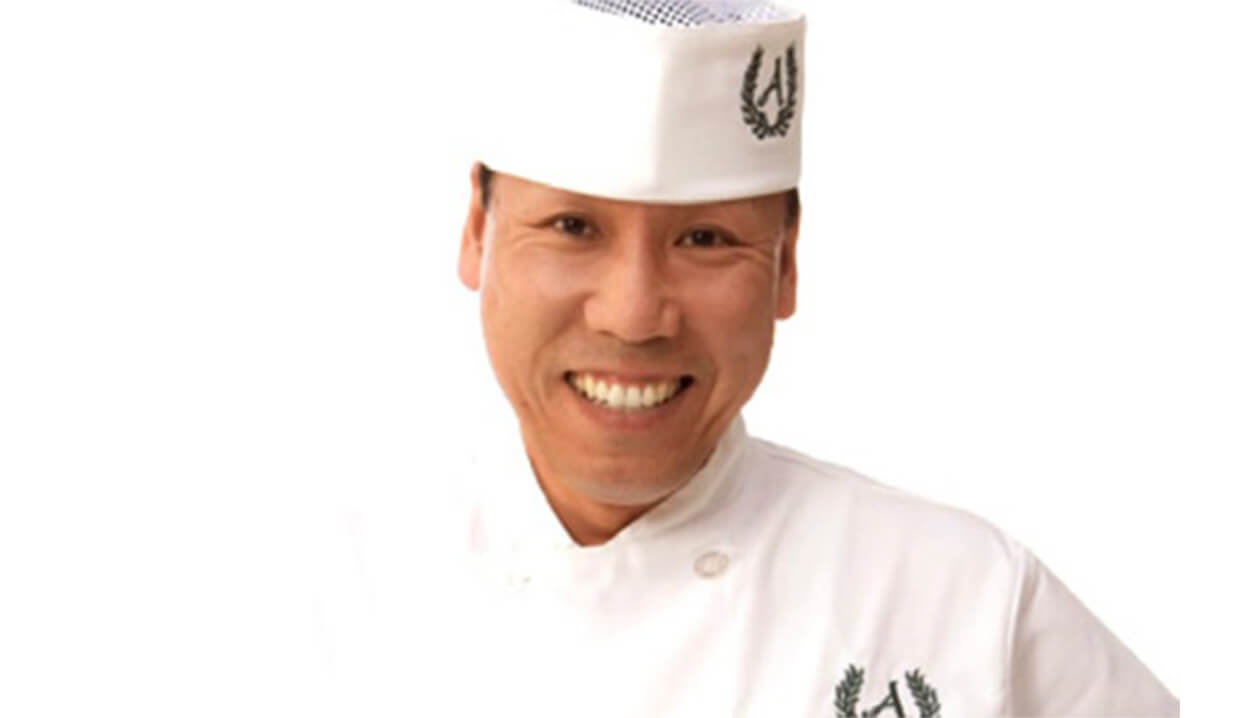 About Chef Andy Matsuda
Chef Andy Matsuda was born in Hyogo prefecture in July 1956 and graduated from Nishiwaki Technical High School. At the age 20, Chef Andy took a backpacking trip through 16 countries including the US, Canada and those in Europe wanting to see how sushi is introduced outside of Japan with his own eyes. During the course of his trip, he found sushi culture in Los Angeles the most advanced. Chef Andy moved to the US at the age of 25 after training to be a sushi chef in Japan. Driven by his realization of the shortage and necessity of sushi chefs in the US, he established SCI. In addition to running the school, Chef Andy was appointed to be one of 8 members of the Holland America Line Culinary Council® to lead sushi and Japanese cuisine offerings on cruise ships. Chef Andy was named among "the 100 Japanese people the world respects" (Newsweek Magazine Japanese Edition) in 2007. In addition, the Ministry of Agriculture, Forestry and Fisheries of Japan appointed Chef Andy to be "Japanese Cuisine Goodwill Ambassador" in 2019.
See Chef Andy's YouTube Channel:
https://www.youtube.com/user/chefandymatsuda/videos
About Sushi Chef Institute
The Sushi Chef Institute is a sushi chef training school designed for non-Japanese trainees based in Los Angeles, California. The school graduated more than 1,800 graduates to 35 countries including the US, the Netherlands, Denmark, Hong Kong, Taiwan and Argentina. The school's mission is to convey the essence of Japanese traditional cooking skills and knowledge to the world. Not limited to fostering future talents, the school is engaged in carrying on the sushi tradition and raising social awareness through providing catering services, workshops and restaurant start-up consultation to its graduates and to the public.