In this blog, we touch on diverse topics about Japanese food cultures, practices together with the culinary secret, TREHA®, and its important role in the Japanese food industry. We hope our blog helps you obtain in-depth knowledge of Japanese cuisine and the science behind it, which is hard to find elsewhere.
May the power of the invincible apples be with you.
Though apples and table oranges are beloved winter fruits in Japan, apples take center stage in this blog. Japan's leading production areas, such as Aomori and Nagano, are cool regions with an average annual temperature of around 50℉/10°C. As many of you may know, the more significant the temperature difference between day and night, the crisper and sweeter the apples become. In fact, the typhoon that comes in early autumn (around September) has a significant influence on the harvest of apples. The most damaging storm came in September 1991 and was so devastating that "Apple Typhoon" became its nickname. Due to this typhoon, many apples in Aomori prefecture, which has the highest production of apples in Japan, have fallen just before the harvest. About 90% of apples could no longer be shipped to stores as they were, causing significant damage to apple farmers. Typically, fallen apples do not hit the stores because they are scratched, and they are usually sold cheaply and processed into juice. However, some farmers came up with a beautiful idea of selling a small number of apples that survived strong winds of over 120 mph (53.9 m/s) and remained on the trees as "infallible apples" as a lucky charm for those who are preparing for entrance examinations of colleges, high schools and alike. This marketing pitch turned into a big success. The "infallible apples" generated sizable business, which resulted in becoming part of disaster relief. The miraculous apples must have been tremendous emotional support. In most cases, high school students who failed college exams have to try again after a prep school for a year.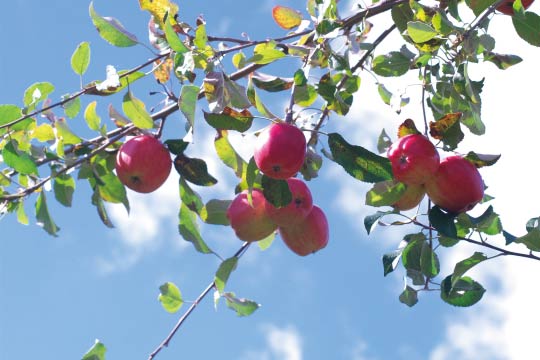 "Apple bunny" holds an established position in a bento box.
The Japanese prefer fruits to be on the sugary-sweet side. Therefore, fuji, sweeter than most apples and consistent in quality, is the most popular variety. Apples are usually sliced and peeled. We are thrilled when the cut apple presents honey-like syrup around the core, which is known as "a honey core." The sign never betrays us. Apples can act as healthy desserts for school children. Rabbit-shaped apple slices are staples in a bento box. Parents often make them because a full-fledged fruit carving technique is not necessary. A bit more knife work pays off with the kid's smile and exclamation, "Kawaii! (cute)". Though it is unknown when the apple bunnies started to hop into a bento box, the housemaid who served Emperor Meiji (the 121st Emperor, 1852-1912) supposedly created them to entertain her master.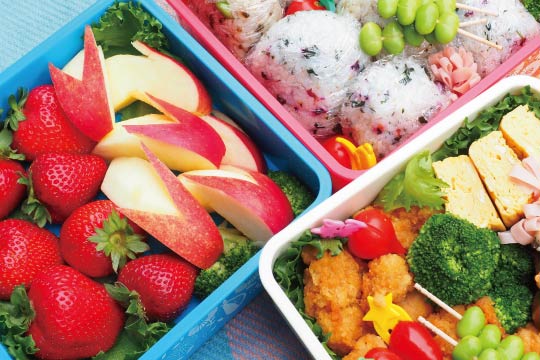 The cut apples in the lunch box turn brown, becoming less appetizing by lunchtime. Cut apples are typically soaked in saltwater to prevent discoloration, but adding saltiness to the sweet apple flavor is the downside. TREHA® comes in very handy to prevent browning. Instead of salt water, soak cut apples for 30 minutes in a 10% TREHA® solution. TREHA® slows down discoloration without changing the natural flavor of apples as its sweetness is only 38% of sugar. Apple slices (right) show significantly more minor browning than the untreated ones after being soaked in a 10%TREHA® solution for 30 minutes followed by 25 hours of refrigeration.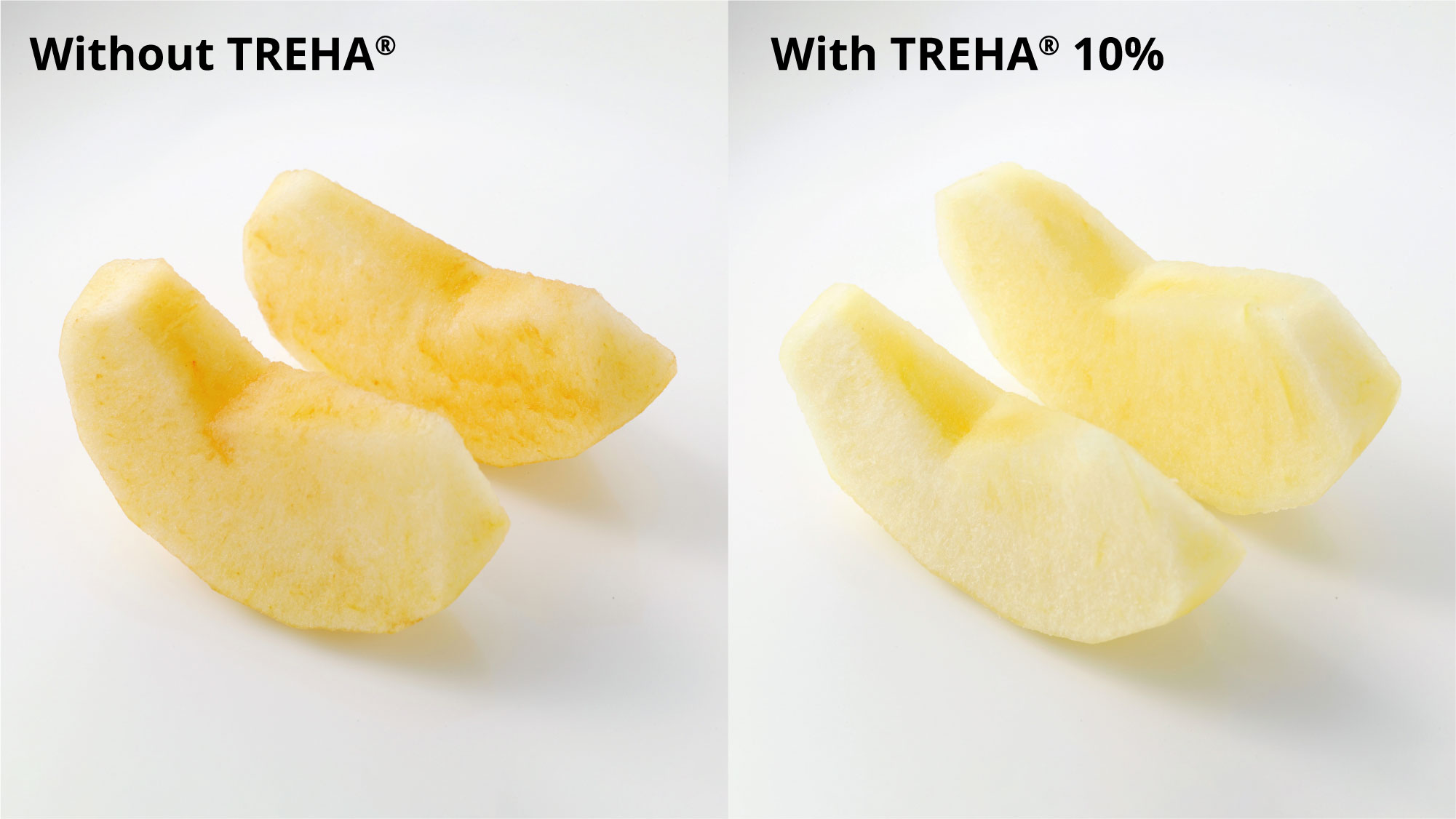 Are you interested in learning about how TREHA® works on fruits and vegetables? Watch the video at the bottom of this page.
Apple Recipes with TREHA®: "Apple tart with almond cream" and "Caramelized apples topped with green apple sorbet and a crispy apple chip"
Comments of the recipe creator:
TREHA® makes the tart crust stable but crispy, even when it is baked with fillings. Because the tart has a mild sweetness and is well-structured, it is cut into perfect, clean pieces. Apples which have firm pulp and acidity, such as Jonathan, are suitable for this recipe. Green apples also give rich aroma to the tart. Click here for the recipe.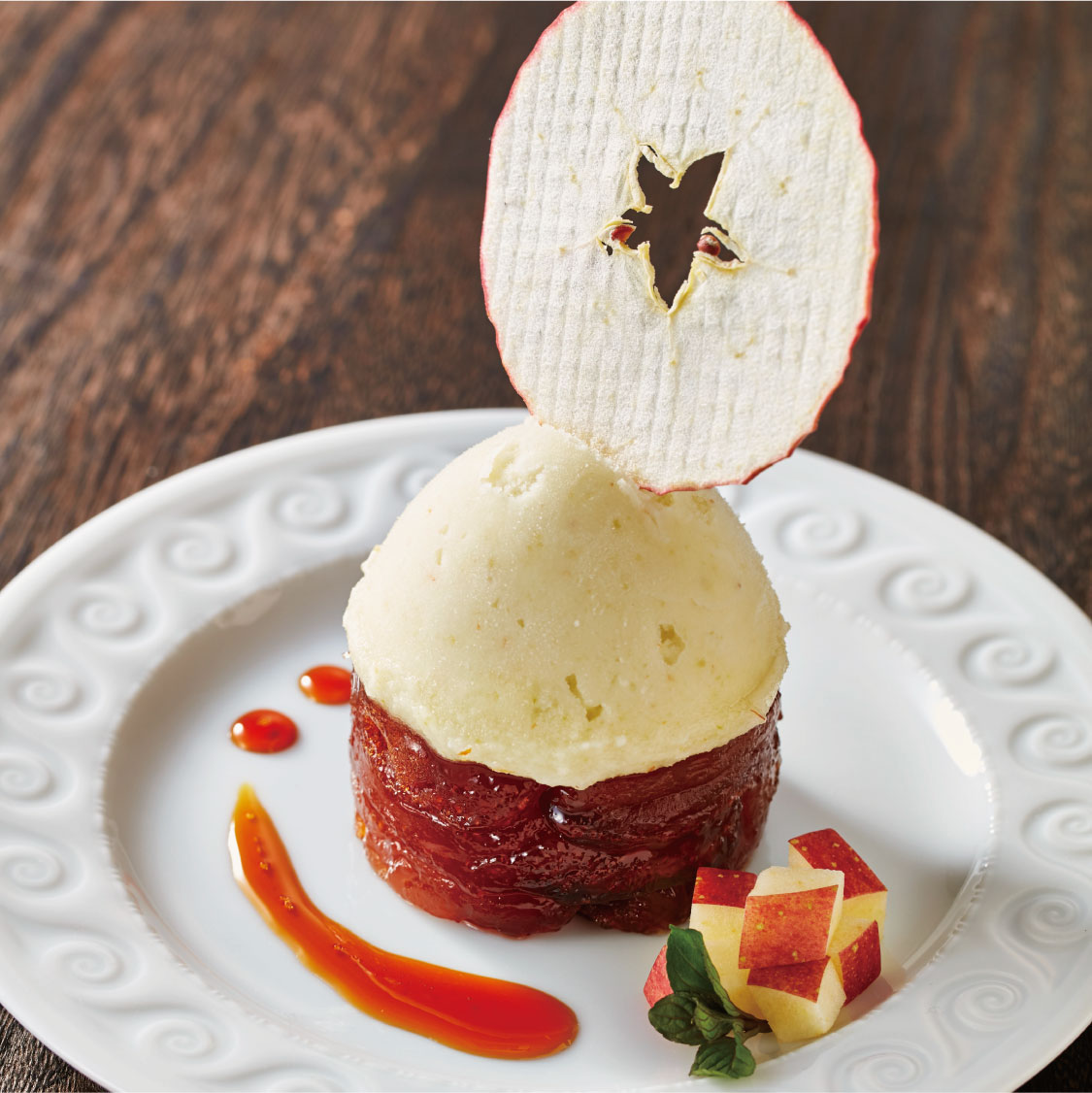 This apple themed dessert utilizes various benefits of TREHA® in all components. Apples caramelized with sucrose and TREHA™ maintain a fresh apple flavor and sweetness without causing moisture release. Sorbet features a dense fruity flavor without extra sweetness utilizing TREHA®. The dessert dish can be garnished with an apple chip featuring a long lasting crispiness and bright color. TREHA® plays an important role in creating flavors of fresh and rich caramelized apples. Click here for the recipe.
"An apple a day keeps the doctor away." What kind of sweets would you make with this healthy fruit?

Did you find this blog interesting?
Please share it with your friends in the food service industry.
We regularly update the blog about the food culture of Japan, where TREHA® was discovered for culinary applications.
Click here and send us a message to subscribe.
Or hit us up on Instagram @trehalose_sensei!