In this blog, we touch on diverse topics about Japanese food cultures, practices together with the culinary secret, TREHA®, and its important role in the Japanese food industry. We hope our blog helps you obtain in-depth knowledge of Japanese cuisine and the science behind it, which is hard to find elsewhere.
Japanese children are celebrated for their growth at three, five, and seven years olds.
There are many traditional events year-round in Japan. While some major ones are designated as national holidays, seasonal events are celebrated in the form of rituals, festivals, feasts, and special food items including Chitose ame.
If you visit a shrine in the middle of November, you might come across children dressed up in kimonos. This is an annual event called "Shichi-go-san (七五三)", which is to celebrate the growth of children. Shichi-go-san means "seven, five, and three" implying the ages of children counted from their birth year as one. Boys are celebrated at the ages of three and five whereas girls are celebrated at ages three and seven. The reason behind the celebrations at the ages of three, five, and seven are based on the rituals performed at each age in old times. The infant mortality rate used to be much higher and it was challenging to raise healthy children. It was believed that young children's souls are not yet anchored in their present world, thus their pure souls might go back to the world beyond prior to the age of seven. After successfully reaching the age of seven, children were considered old enough to be part of their community in the present world and thus obligated to pay respect to a deity.
Here are the ancient rituals performed at the ages of three, five, and seven that became the foundation of "Shichi-go-san."
Celebration at the age of three is based on a ritual (Kamioki 髪置の儀) to start growing out hair:
During the Heian period (around the 8th to 12th centuries), it was customary to shave a baby's hair until the age of three. Yes, this applies to both boys and girls. In the third spring, the child was celebrated for sound growth and began to grow hair out. In modern Shichi-go-san, it is common for a three-year-old girl to wear a vest-like kimono (hifu) on top of a regular kimono. This vest is worn only by a three-year-old girl whereas an obi belt is for the last celebration at the age of seven. The vest looks adorable on a young child and is less tightening than the obi belt, which is suitable for an active toddler.
Celebration at the age five is based on a ritual to wear a divided skirt (hakama 袴) for the first time:
A divided skirt, known traditionally as hakama, was formal wear in the Heian period (around the 8th to 12th centuries). The ritual started among nobles called Kuge (公家) at the Imperial Court. Originally both boys and girls were celebrated. Around the Edo period (around the 17th and 19th centuries), the ritual spread among commoners and became a celebration for boys at the age of five. In modern Shichi-go-san, a 5-year-old boy also wears a short coat (haori 羽織) and a dagger (kaiken 懐剣).
Celebration at the age of seven is based on a ritual to tie an obi belt (帯) for the first time:
This is the last ritual to celebrate the turning point of wearing an adult kimono, which requires the obi belt unlike young children's kimono without it, thus considered the most significant milestone for a child's growth. The ritual was held for children around the age of 9 regardless of gender. Around the Edo period, it became a ceremony dedicated to a 7-year-old girl. In modern Shichi-go-san, bigger-sized kimono is tucked to fit a child's body to wish for continuous growth in the future. Though common accessories with the previous celebration are hair ornaments (kanzashi) and an ornamental clutch/drawstring bag, a girl wears an obi belt and sash, just like an adult except an accessory case placed at their chest and a bright-colored sash wrapped below the obi belt to make their costume more colorful and decorative. 
Shichi-go-san

special -

Chitose ame

(千歳飴), a longevity candy

There is a special candy for the Shichi-go-san celebration, which is called "Chitose ame" (千歳)". "Chitose" means 1000 years and is a symbol of health and longevity. The candies are placed in a long rectangular paper bag with handles for a child to carry. The bag is printed with classic-style paintings of a crane, turtle, pine tree, bamboo, and plum flowers, all of which are considered lucky symbols based on how they rhyme with positive words, legends, and characteristics of the animals and plants. In many cases, a bag holds a pair of red and white candy bars or numbers of candy bars matched with the child's age. "Chitose ame" has a size requirement that is within a diameter of 14.5 mm (about half an inch) and within the length of 1 m (a little more than three feet). Most children are not able to finish the candies by themselves even though they can not wait to taste the candies before the celebration is completed, especially if it is their second time.

There are several theories about the origin of Chitose ame including two major ones below:

The Asakusa origin theory:
A man named "Shichibei", who was selling candies at Sensoji Temple in Asakusa, Tokyo, started selling a pair of red and white candies under the name of "Sen-nen ame" which means "1000-year candy" and later evolved into Chitose ame. Since the name containing "thousand years" ties to a positive image of longevity, the candies were believed to guarantee healthy longevity.

The Osaka origin theory:
It is said that a man named "Jinzaemon Hirano" originally from Osaka started selling candies at a shrine in Tokyo. At that time, the candy was pronounced as "Senzai ame" instead of "Chitose ame", which also means "1000-year candy." Later the candy gained popularity due to its marketing pitch that the candy makes anyone stay alive for as long as 1000 years!

Chitose ame is originally meant to be consumed among the whole family who shares the same wish for the health and longevity of the celebrated child(ren). When the candy first appeared during the Edo period (around the 17th to 19th centuries), it was treasured and distributed among the family members because sugar was a very precious ingredient. Such customs still remain in some areas. In addition to sharing the candy among the family, people often give the candy as a return gift or as party favors to neighbors and relatives as a symbol of good luck.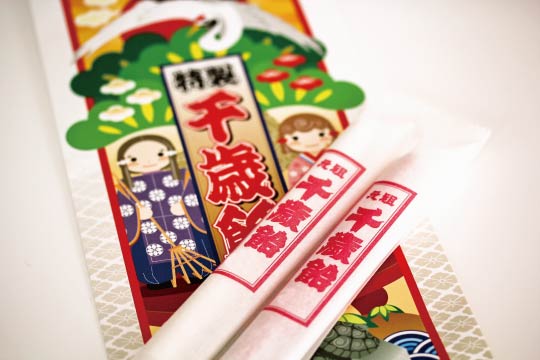 In modern Japan, Shichi-go-san is a milestone event for most families. Children dress up in kimonos and pause in the middle of family portraits at photo studios before or after visiting a shrine to be celebrated.
Though it is an essential family event, the celebration style of Shichi-go-san greatly varies by region. For example, boys are celebrated only at the age of five in some regions. In Hokkaido, which is the northernmost part of Japan with sizable snowfalls in November, it is celebrated on October 15th instead of November 15th.
In some northeast regions where the author is from, it is celebrated as grand as a wedding reception. The author vividly remembers that her cousin's huge Shichi-go-san party participated by the entire clan at the hot spring inn called Onsen (温泉).
Though the celebration style may differ, Shichi-go-san is a traditional family event, with Chitose ame playing an indispensable role.
A lot of grown-ups just love the candy since it is connected to good childhood memories. (Maybe just like chocolate Easter eggs?) It is hard to miss Chitose ame at a store because of their unique appearance and colorful packaging. Try some to fetch a symbol of luck.
Did you find this blog interesting?
Please share it with your friends in the food service industry.
We regularly update the blog about the food culture of Japan, where TREHA® was discovered for culinary applications.
Click here and send us a message to subscribe.
Or hit us up on Instagram @trehalose_sensei!
You might also be interested in: