In this blog, we touch on diverse topics about Japanese food cultures, practices together with the culinary secret, TREHA®, and its important role in the Japanese food industry. We hope our blog helps you obtain in-depth knowledge of the secrets and science behind Japanese cuisine, shared from our kitchen, to yours.
Our blog features Chef Michiko Tanaka, a pastry chef from CACAO HUNTERS® JAPAN, based on our interview on August 9th, 2019.
Chef Tanaka's long career dedicated to chocolate started in 2003. She enrolled the Le Cordon Bleu Paris and obtained Diplôme de patisserie (Pâtisserie Diploma). After training at the Pierre Hermé in Paris, Chef Tanaka worked at Pierre Hermé Salon de Thé in Tokyo for seven years. She was in charge of developing new product concepts and recipes at an ingredient importer specialized in baking and confectionery. In August 2018, she joined CACAO HUNTERS® JAPAN and is currently responsible for product development and marketing for retail stores, including a brand new store at Tokyo Station.

CACAO HUNTERS®, having its presence in Japan, Colombia, and South America, supports all parties related to chocolate production. The company provides consulting services on cacao beans cultivation, quality control in processing cacao beans, and chocolate production. CACAO HUNTERS® brand successfully obtained credibility among chocolatiers all over the world. Click here to learn about CACAO HUNTERS®'s activities.
We are honored to have an interview session with Chef Tanaka, who is exceptionally talented and passionate about her profession.
How did you learn about TREHA®? What made you start using it?
The patisserie I used to work with was using TREHA® in Italian meringue for praline cake. Since the sweetness of the cake becomes too intense when made with sugar alone, we used TREHA®, which has low sweetness, to adjust the sweetness.
When developing a fruit purée recipe for jelly candies (pâte de fruits), I encountered two challenges: adjusting the sweetness and bringing out the fruit's natural taste. I came up with the idea of using TREHA® to face them. I stopped by NAGASE's booth at a food ingredient exhibition and learned about TREHA ®'s 11 practical functionalities for confectionery, including its low sweetness, which I'd already known at the time. I discovered TREHA® could present many new possibilities for me. It's been about five years since I fully understood the functions and started using them to their most full effect.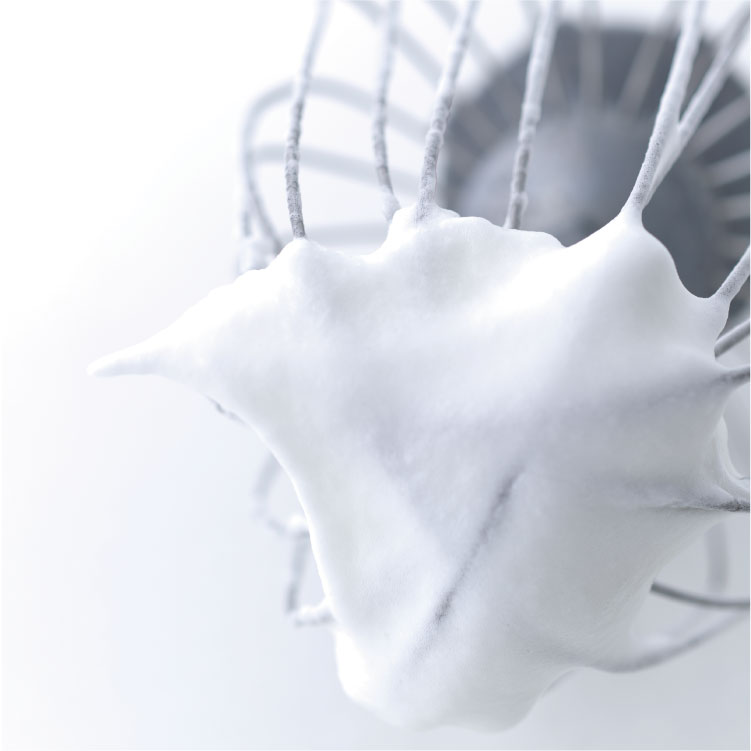 Which menu items do you use in TREHA® and why?
I use TREHA® in all my "Banana Split in a Jar" elements. As you can tell from the recipe, I am a heavy TREHA® user. Among TREHA®'s many functions, I especially like the improvement in freeze-thaw stability, inhibition of off-notes from eggs during cooking, and a low sweetness. I like TREHA® because it enhances the flavor, but improved work efficiency is the most significant reason I rely on TREHA®. (Click here for the recipe.)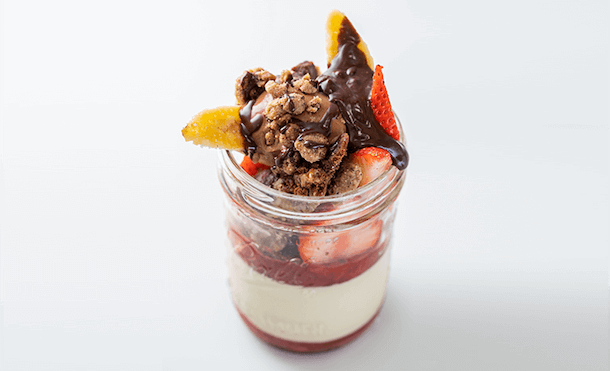 When studying at a Canadian high school for three years, I was captivated by American-style treats. One of the items embedded in my memories is a banana split. I've reinvented my favorite treat as a dessert in a jar using TREHA®. The dessert includes CACAO HUNTERS®'s chocolate made with genuine Colombian cacao. Though banana split is a simple dessert, TREHA® produces the flavor of the finest cacao, which we cherish as a type of fruit.
TREHA® improves the freeze-thaw stability of Strawberry Compote.
Specific sugar content is necessary to ensure that compote does not cause water release after freeze-thaw. However, adding sugar increases the sweetness, making it like jam. This compote made with TREHA® is just as fresh and juicy as jelly, yet it doesn't release water even after freeze-thaw since it includes the necessary sugar content. Since compote can be made ahead, frozen, and then thawed when needed, workability is improved by TREHA®.
TREHA® creates a smooth texture in Creamy Banana Mousse.
The mousse contains Crème anglaise (custard sauce) made from egg yolks. TREHA® inhibits protein denaturation, which slows down eggs' coagulation in the custard sauce during preparation. This characteristic allows me the flexibility to work on the sauce while preparing other items, which gives me peace of mind.
TREHA® reduces the eggy smell and brings out the main ingredients' flavors.
Fruit and cream alone do not provide sufficient depth to a mousse, so I often choose an anglaise base. Depending on the quality or type of eggs used, the specific note may interfere with the fresh flavor of fruits. That is the time I frequently use TREHA® because it dramatically eradicates the undesired eggy smell and brings out the flavors of the main ingredients. Not only for fruits mousses, but I also use anglaise sauce containing TREHA® for other mousses such as coconut and champagne.
TREHA® improves the freeze-thaw stability of the dessert.
I created the mousse recipe using TREHA® so that it can be stored frozen, thawed, and finished with topping and garnishment. Work efficiency significantly improves when the dessert can be stored frozen in a glass jar.
TREHA® maintains the smooth texture of Mousse Chocolat Sierra Nevada.
Since this element is also frozen, just as the banana mousse, TREHA® is a must-have ingredient. The texture becomes so soft and smooth that it's hard to believe it has gone through the freeze-thaw process. The mousse would dry out after thawing if made only with sugar.
TREHA®'s low sweetness enhances the delicate flavor of cacao.
Chocolate made from Sierra Nevada cacao has a sweet and sour flavor reminiscent of fruit. I use TREHA® to bring out the characteristic flavor using TREHA®'s low sweetness. In addition, I learned that TREHA® efficiently releases full flavors of chocolate while enhancing the taste of cacao.
TREHA® retains the brownies' soft texture
The fudgy and soft brownie can be a product by itself when not used as a topping. To enhance the texture with a smooth and moisture-rich mouthfeel, some adjustments are made to incorporate meringue instead of regular whole eggs and butter combined with liquid cooking oil. TREHA® is mixed with stabilizing air bubbles in meringue, making it delicate, soft, and more presentable.
TREHA® improves the brownies' freeze-thaw stability.
Alongside the preparation work for other elements, TREHA® is used in the brownies to store frozen and thawed as needed, just as the other parts, including two types of mousse and strawberry compote.
TREHA®'s low sweetness orchestrates overall taste.
Though a certain degree of sweetness is expected from "Banana Split in a Jar" as an American-style sweet, the chocolate used is also sweet and rich in taste, making the dessert cloying. TREHA® is used to lower the sweetness and balance the overall taste.
TREHA® creates a light and crispy texture in cacao crumbles
TREHA® retains moisture and softness in the baked goods with certain water content. On the other hand, however, TREHA® maintains crispiness in the baked goods featuring flakey texture with lower water content. This is because the TREHA® solution transforms into a glass state when the moisture content is reduced to a particular concentration. This transformation is termed "vitrification" or glass transition, characterized by a highly stable, solid physical condition. Crystallization or melting (also known as "weeping") is less likely to occur in a glass state.
I was surprised and fascinated to learn that TREHA® works for crafting these contrasting textures. I take advantage of TREHA®'s attractive property when I make the crispy cookie toppings, which can maintain crispiness without becoming soggy over time.
TREHA® allows the chocolate syrup to be stored at room temperature without becoming overly sweet.
It is challenging to maintain chocolate sauce containing dairy ingredients ready to use. One reason is that ganache made with milk is highly perishable and cannot be kept at room temperature. Another is that the cacao butter in the sauce hardens with refrigeration. The emulsified chocolate sauce with increased sugar content containing TREHA® holds off at room temperature without any quality issues during business hours, which significantly improves the work efficiency of the operations. If the sauce is made with only sugar, it will be too sweet.

TREHA® maintains the fresh surface of fresh-cut fruits used as toppings.
The cut surface of strawberries does not wilt or deform when immersed in a 10% TREHA® solution for 10 minutes in advance. This method applies to bananas, except directly coating the cut surface with TREHA® works better than immersing in a solution.
TREHA® maintains the natural colors of cut fruit.
TREHA® mitigates the browning of strawberries and bananas, which is beneficial for fruit toppings in general including those used in jar desserts.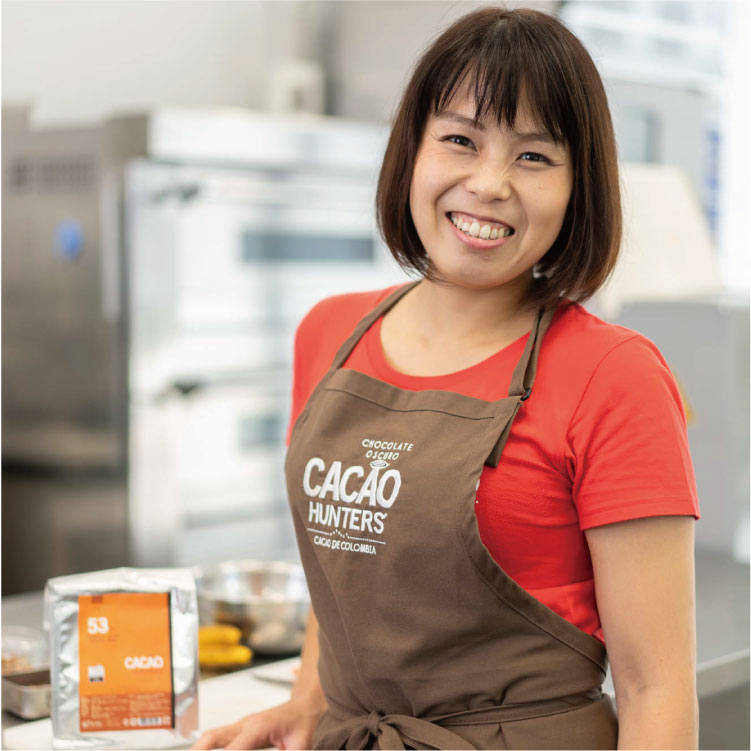 Please tell us about the most significant merit of TREHA® in your kitchen.
I most often take advantage of the freeze-thaw stability TREHA® offers. While I highly appreciate TREHA® contributes to reducing food loss, I believe the most significant merit for us is the improvement of work efficiency. The operation will not work unless the preparation is systematically done when time is limited. TREHA® allows me to prepare elements in advance because of the freeze-thaw stability and maintaining the freshness.
Click here to see another CACAO HUNTERS®' recipe, Banana Brownie.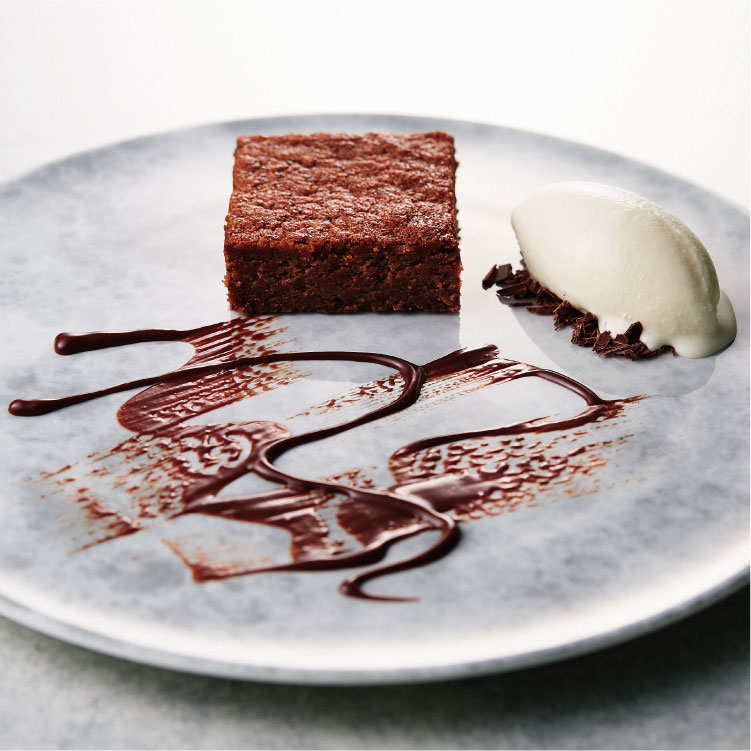 Did you find this blog interesting?
Please share it with your friends in the food service industry.
We regularly update the blog about the food culture of Japan, where TREHA® was discovered for culinary applications.
Click here and send us a message to subscribe.
Or hit us up on Instagram @trehalose_sensei!