In this blog, we touch on diverse topics about Japanese food cultures, practices together with the culinary secret, TREHA®, and its important role in the Japanese food industry. We hope our blog helps you obtain in-depth knowledge of the secrets and science behind Japanese cuisine, shared from our kitchen, to yours.
Spring has come. It is the season for the first or last day of school.
Spring months are when Japanese children meet new friends and bid farewell to their old friends as a school year starts in April and ends in March at most schools. Ceremonies are typically part of school life, perhaps because rituals for occasions are taken seriously in Japanese culture. Graduation ceremonies are held in March, and entrance ceremonies in April.
A graduation ceremony is often held in each school's auditorium or gymnasium. The commencement consists of congratulatory speeches from the principal, farewell speeches from current students, and replies from the graduates. Graduation ceremonies in Japan are very solemn, and students must practice how to stand up, when to bow, how to walk and move their hands when receiving the diploma, and alike. Another essential part of the graduation ceremony is the student chorus. Current students and graduates respectively sing songs related to graduation. The graduates become very emotional as it is the last activity with their friends who shared school life.
In April, entrance ceremonies are held at all schools, from kindergarten to university. Since most schools have uniforms until high school, students walking through the main gate in their brand new uniforms are typical springtime scenes alongside blooming cherry blossoms.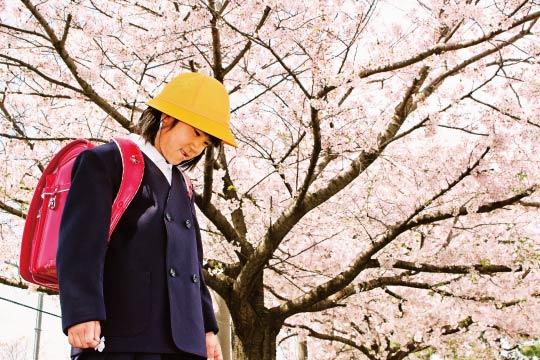 School lunch is a daily delight for students and an opportunity to learn about food.
Lunchtime is a favorite daily activity for many children in their school life. All students eat the same meal in elementary and junior high schools. The schools accommodate themselves for students with allergies by making special arrangements. According to a survey by NIFTY Corporation in May 2021, more than half of elementary and junior high school students answered they like school lunches. Their top three favorite items are "curry and rice," followed by "fruit punch" and "deep-fried bread." As many of you might know already, the Japanese, including children and adults, love Japanese curry rice. Naturally, when curry rice is served at schools, there is a rush of second helpings. The second most popular item, fruit punch (alcohol-free), is a dessert with fruits in syrup and mochi or milk agar jelly, which is probably Japanese original. Deep-fried bread, the third most popular item, is a roll of bread, which is deep-fried and coated with sugar or soybean flour. It is a mysterious yet tasty bread that even children with no appetite will always eat.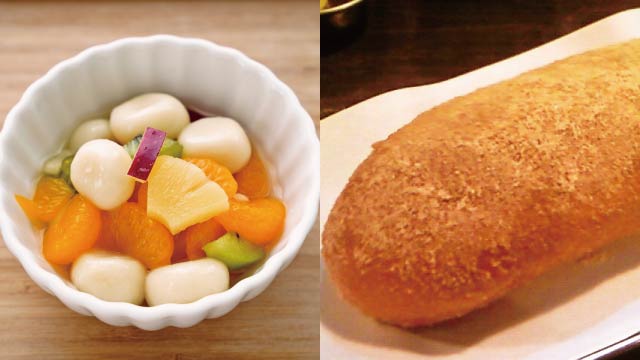 According to the National Federation of School Lunch Associations, the school lunch service began in 1889 at an elementary school in Yamagata Prefecture, offering free school lunches to children whose families had financial difficulties. Many schools started providing lunches in 1954 when the School Meal Law was enacted.
To maintain and improve health through appropriate nutrition.

To educate the importance of healthy dietary decisions and establish desirable eating habits.

To encourage social interactions and cooperative spirits, enriching school life.

To preserve the environment where food is obtained and make good use of ingredients without wasting them.

To be grateful to people who work to bring the food to the table through various activities.

To educate Japan's valuable traditional dietary habits.

To educate each level of the supply chain, including procurement, distribution, and consumption.
In other words, the school lunch system ensures children have full stomachs providing an opportunity to educate them about nutrition and food.
School lunches are prepared at the supply center or in the school kitchens. Nutritionists develop nutritious and balanced menus for growing children. Milk is always included with every school lunch to enhance nutrients. Many schools hand out "School Lunch Newsletter" monthly, created by the nutritionist who develops the menus for the month. The newsletter includes calories, protein per meal, nutrients, and a daily menu. The newsletter also explains the seasonal ingredients and the traditional food items tied to monthly events in plain language for children to understand. Sometimes, recipes of popular menus are posted. The newsletters help children learn the importance of food and nutritional balance, and parents avoid redundant menus for dinners prepared at home.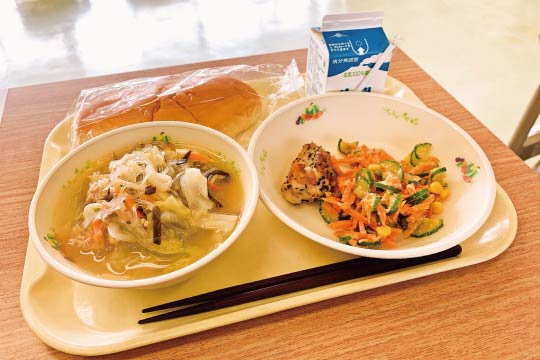 School lunchtime is memorable in many ways.
Lunchtime officially begins when the chime rings, signaling the end of the morning classes. Students typically eat their lunches in their classrooms. Since school lunch is a part of education, students take turns of the responsibility of serving and cleaning up. Students on lunch duty wash hands, put on robes, masks, and caps to prepare for bringing food containers to their classroom. They are also in charge of serving the food to plates and bowls in the prescribed portion. Each class is provided with a few sets of clothing for lunch duty (white robes and caps), circulated among the students. Students on lunch duty would wash the clothes over the weekend at home and relay the clean clothes to the students on lunch duty next week.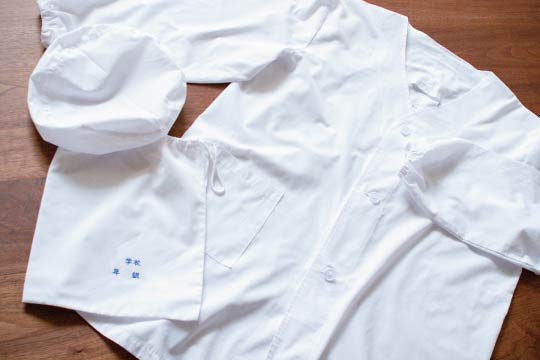 Students line up in a row with their trays and receive their plates, just like a buffet. Some children can't help but squeal with delight when finding their favorite dish on their plate. With a call of "Itadakimasu!" teachers and children start the same meal altogether.
When a special dessert is served, school lunchtime becomes even more exciting. For example, children's favorites are sweet fruits, including strawberries in spring, watermelons in summer, persimmons or grapes in fall, and apples in winter. Cultural or traditional desserts are also served for the seasonal event: Hina-arare (雛あられ) rice crackers for the Doll Festival in March, and chocolate cake for Christmas. Besides special desserts, regular desserts, such as pudding and jelly, are popular among children. A surplus of such popular desserts due to the absence of their classmate(s) could trigger a conflict, which is usually settled with rock-paper-scissors.
For many Japanese people, school lunches are closely tied to their childhood memories: fun conversations with friends, having to finish the milk, serious fights caused by a conflict over the unclaimed desserts, and when the food container fell over and students would have to take leftovers from other classes.
If you were to create a school lunch menu in your country, what would it be?
Did you find this blog interesting?
Please share it with your friends in the food service industry.
We regularly update the blog about the food culture of Japan, where TREHA® was discovered for culinary applications.
Click here and send us a message to subscribe.
Or hit us up on Instagram @trehalose_sensei!